France: Marseille backs down over 'Nazi-era' ID cards for homeless
Comments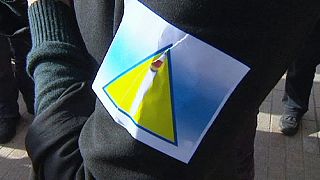 The French city of Marseille has been forced to back down over ID cards designed to help the homeless but which caused a storm of protest from politicians and welfare groups.
The cards contained a yellow triangle on the back and were designed to be worn visibly.
As protesters outside the town hall on Wednesday highlighted, for many the symbols had echoes of the Nazi-era badges Jews were forced to wear during the Holocaust.
"I don't want to be singled out like this. That happens enough already… But with this… where on earth are we heading?" said one man.
The idea was well-intentioned. The cards would contain information useful for emergencies, such as details of allergies or chronic diseases.
The problem, for some, was that it contravened the principle of medical confidentiality.
For others it was the yellow triangles with their wartime connotations.
The man responsible for the scheme said he was outraged by the outcry.
"Our original aim was to find a way to identify people living on the streets, and who often have their documents stolen. They are free to take it or leave it and on the face of it most of them are happy enough with this card," said Xavier Mery, one of Marseille's deputy mayors in charge of helping the homeless.
Some 300 cards were distributed under the joint initiative by the council and the ambulance service.
But given the outcry, new ID cards less likely to stigmatise the homeless are now being designed to replace them.