Ceasefire on the cards in Ukraine's war-torn east
Comments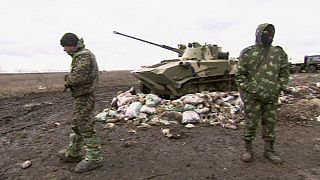 The brand new terminal at Donetsk airport was built when Ukraine co-hosted the Euro 2012 championships. Now, after months of fighting between pro-Kyiv forces and pro-Russian separatists it is reduced to a shell.
On Thursday, a truce between the two sides fighting at the airport was reported. However a spokesperson from the Ukrainian government's so-called "anti-terrorist operation" headquarters said fighting had since resumed.
On Friday, Ukrainian military spokesman Andriy Lysenko said talks were underway to reach a ceasefire along the entire frontline in Donetsk region. Separately there is an agreement for a truce to begin on Friday along the frontline in the neighbouring Luhansk region.
Meanwhile local people in the war-torn east are struggling to survive in freezing conditions and with little heating. Many live in buildings which are severely damaged after months of shelling.
Resident Olga Bikmeyeva said: "The gas pipes come from the direction where the fighting is and they have also been cut several times, so there is no gas in the boiler. So what are our living conditions? It's five degrees in here. We usually sit here in the kitchen, we light a candle and then we sit here at the table and listen to the sound of shelling outside the window."
Despite an official ceasefire signed between the two sides in September there has been continued fighting . People here are tired of failed promises of peace, but live in hope that they might soon be able to return to some kind of normality.