Tough coalition-building ahead for Moldova's pro-Europeans
Comments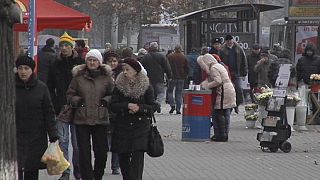 The election may be over in Moldova but the politicians there have plenty of work to do to form a coalition government.
Pro-Russian Socialists emerged the biggest party, but are unlikely to form a government as centrist pro-EU parties are discussing a way of sharing power.
"In principle pro-European parties in coalition have enough votes to create a government. But Moldova's external and internal circumstances, such as the rift in society between pro-Russians and pro-Europeans, pushes the actors to look for parliamentary support from a party of the left," says euronews' Sergio Cantone.
That is unlikely to include the Socialists and is more likely to be one of Igor Dodin's smaller rivals on the left, which will see the continuation of a three-party coalition that has run the country since 2009.
The Socialists have promised to "make the pro-European integration shake with fear", but despite losing some support the governing parties say the vote proves Moldova's move towards Europe, not Russia, is irreversible.
"I am very optimistic and I think that the pro-European parties will cooperate even with the left side and they will decide what will be our direction as a country in the future," said one young man in English.
"I don't know if they will be able to create a coalition, but this is Moldovans' hope, especially of the younger generations. We want to be part of the EU in order to have a future within the EU," said a young Romanian woman.
"We shouldn't lose what we got so far in terms of our relations with the East, but at the same time we should try to go towards Europe, but I don't think we will succeed," one Russian-speaking woman told euronews.