Frontline of Syrian city of Kobani in rubble after two months of fighting
Comments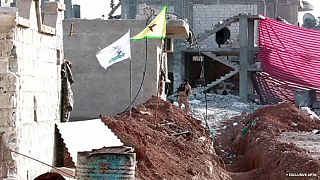 Fresh images of the Syrian border city of Kobani show the destruction wrought after two months of intense fighting.
Kurdish troops have been battling to drive ISIL jihadists out. Airstrikes and ISIL suicide bombs along with mortar fire have reduced the front lines to rubble.
The Kurds say they now control about 80 percent of the city and ISIL around 20 percent. Some Islamic State gunmen still lurk amid the ruins but the Kurds claim their enemy has collapsed psychologically and is now on the defensive.
Kurdish troops been helped by more than 270 airstrikes from a US-led coalition which they say they are hugely grateful for.
One YPG fighter said: "The air strikes are effective, they are effective and ISIL militants are afraid of the planes and our forces can remove them. When they hear the planes they get afraid and can't find anywhere to hide when the Americans come."
ISIL are desperate to take Kobani as it would allow them to form a corridor linking up with the cities of Aleppo and Raqqa.
In the city of Raqqa in the country's northeast, the Syrian government has been carrying out air strikes on the Islamic State group. The Syrian Observatory for Human Rights reports that civilians have been killed in the airstrikes