David Cameron plans to cut welfare for EU migrants in negotiations with Brussels
Comments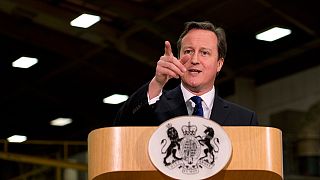 The British prime minister David Cameron has laid out plans to limit welfare payments to EU citizens who come to the UK.
If Brussels doesn't accept this, Cameron said he will 'rule nothing out,' raising the prospect of Britain exiting the EU.
"Our welfare system, in a way, it should be like a national club, it's made up of the contributions of hard working British tax payers. Millions of people doing the right thing, paying into the system, generation after generation. It cannot be right that migrants can turn up and claim full rights to this club straight away. So let's be clear what all these changes taken together will mean. EU migrants should have a job offer before they come here. UK tax payers will not support them if they don't. And once they are in work they won't get benefits or social housing from Britain unless they've been here for at least four years. Yes these are radical reforms, but they are also reasonable and fair. And the British people need to know that changes to welfare to cut EU migration, they will be an absolute requirement in the negotiation that I'm going to undertake," the prime minister told reporters while on a visit to a factory in Staffordshire in England.
Cameron's speech comes the day after new figures showed net migration in the UK has gone up to 260,000 despite pledges by the Conservatives during their election campaign to reduce it to the 'tens of thousands.'
Britain goes to the polls again in 2015.
"If you elect me as prime minister in May, I will negotiate to reform the European Union and Britain's relationship within it. This issue of free movement will be a key part of that negotiation. If I succeed I will, as I've said,campaign to keep our country in a reformed European Union. If our concerns fall on deaf ears, and we cannot put our relationship with the EU on a better footing then of course I rule nothing out," Cameron said.
The European Commission said in response that national parliaments had the right to tackle abuse of benefits, and that Cameron's proposals would be discussed calmly and "without drama."