Show of unity as Ukraine parliament meets for first session
Comments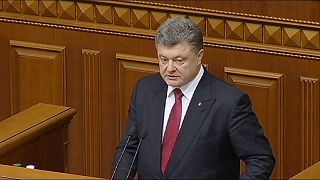 Ukraine's parliament has met for the first time since October's elections gave a resounding victory to political parties in favour of closer links to the European Union.
The chamber saw a show of unity between President Petro Poroshenko and Prime Minister Arseniy Yatsenyuk, who was reappointed by deputies on Thursday.
In a gesture aimed at deflecting impressions of damaging rivalry between the pair, Yatsenyuk raised his hand to the president and declared to cheers: "Here is my hand for carrying out all that you have just said from this tribune."
The display was scripted in part for the eyes of Moscow amid Kyiv's bitter conflict with pro-Russian rebels.
"Looking to the future, we can clearly see that establishing peace in Donbass won't prevent danger from the east," Poroshenko said in a keynote speech.
"Unfortunately this danger will remain. It will require lots of our efforts and resources."
Separately, he suggested a foreigner should head Ukraine's new anti-corruption bureau.
Members of parliament formed a five-party coalition of support for the pro-Western leader, reappointed Yatsenyuk prime minister and elected Ukraine's first Jewish Parliamentary Speaker.
Volodymyr Groysman's appointment comes against a backdrop in which Russia has accused Ukraine of having an anti-Semitic leadership.
"We need change, to fight corruption, to decentralise governance, to provide economic growth – to make lots of things happen which we have been expecting to happen for dozens of years," Groysman said.
Ukraine's big neighbour will have been watching.
The Russian government's press service says Prime Minister Dmity Medvedev and Prime Minister Yatsenyuk have spoken by telephone, to discuss financial and economic relations between their two countries.