Nasty US weather ruins Thanksgiving travel plans for millions
Comments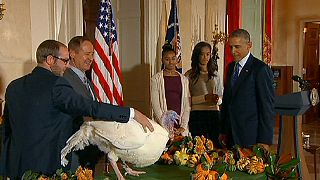 Nasty winter weather in the United States could ruin travel plans for Americans trying to get away for the Thanksgiving holiday.
It's traditionally the busiest time of year for US travel with 46 million people expected to get away between now and Sunday.
The blast of rain and snow mainly along the east coast blocked traffic with hundreds of flights into and around the US were disrupted and thousands of festive travellers delayed.
Meanwhile US President Barack Obama handed out food for the holiday to families in Washington. He was joined by his wife, Michelle, and their two daughters at a neighbourhood food pantry.
Earlier, Obama followed a tradition of "pardoning" a turkey.
Two were granted this year's presidential pardons named Mac and Cheese.
Obama says that around Thanksgiving, turkeys named after side dishes would normally have a "pretty low" chance of escaping the dinner table, so Mac and Cheese "really beat the odds".