Coalition agreement signed in Ukraine
Comments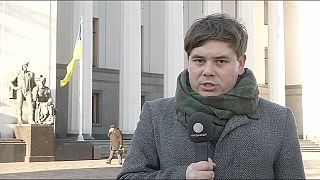 Friday was a day rich in symbolism for Ukraine and not just in Maidan but also in the country's political arena. After talks through Thursday night leaders of Ukraine's five parliamentary parties finally hammered out and signed a coalition agreement.
Euronews correspondent Dmytro Polonsky said from Maidan; "Now that the coalition agreement has been signed the constitutional majority can be formed in parliament and that majority will be able to make amends to the Ukraine's constitution."
Prime Minister Arseniy Yatsenuk said the coalition would be made up of 300 legislators out of a total of 450 seats. The parties have agreed to work together towards integration into the European Union.
"I think the signing of the Coalition agreement is a big step. This is the first time in the history of independent Ukraine when such a broad coalition is formed and all the key points of the agreement apparently will be fulfilled. If those are not fulfilled then it could mean certain events such as those we witnessed in 2013," said one man in Kyiv while a woman added: "The first task is to protect our borders so that our boys do not die, our heroes, our patriots. This is the first task to fulfill."
Pictures apparently shot from a drone and uploaded onto a social media website showed the besieged Donetsk airport in the east of Ukraine. It has become a symbol to the people of Ukraine and on a day of political movement and commemoration the images provide a sharp reminder of the problems which lie ahead for the new coalition.