North Korea's nuclear reaction to UN crimes against humanity resolution
Comments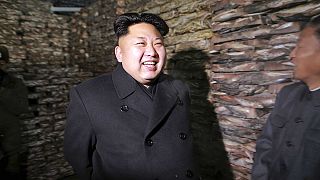 "The United States' hostile acts are leaving us no longer able to refrain from conducting a new nuclear test."
This is North Korea's reaction to a United Nations resolution on Tuesday to refer its leader, Kim Jong-un, to the International Criminal Court (ICC) to answer to charges of crimes against humanity.
Pyongyang called the resolution a 'political provocation'.
"Our war deterrent will be strengthened infinitely in the face of the United States' plot for armed interference and invasion," the statement from the North Korean Foreign Ministry continued, carried by Pyongyang's Central News Agency.
The United Nations has recently ramped up efforts to compile documented evidence of what it says are state-sponsored abductions, torture, forced labour, starvation, rape and summary executions.
The resolution urges the UN Security Council to refer North Korea's top leaders to the ICC to be prosecuted for extensive violations of human rights.
In February last year, North Korea conducted its third nuclear test since 2006, all of them underground.
It had pulled out of the Nuclear Non-Proliferation Treaty in 2003.
It was in 2009 that the isolated totalitarian state bordering China in the north and South Korea to the south became officially considered by the International Atomic Energy Agency (IAEA) to have become a "fully fledged nuclear power".
It is thought to have a small stockpile.
Washington set out in 2009 to end a long stand-off with Pyongyang, President Obama promising to "offer an outstretched hand to those who will unclench their fists".