What will you ask US Senator John McCain?
Comments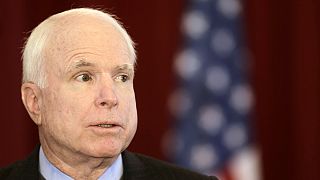 Vietnam veteran John McCain began his career in the US army and survived five brutal years as a prisoner of war, years after his release he moved into the world of politics. Currently serving as senior United States Senator from Arizona, McCain is known for his maverick style and straight-talking attitude. In 2008 he was nominated as the Republican presidential candidate alongside his contentious running mate Sarah Palin, losing out to President Barack Obama.
Today McCain is reputed for his long-standing criticism of the Obama administration, in particular his foreign affairs and defence policies. McCain has lashed out at Obama on US policy in Syria advocating boots on the ground to battle President Bashar Al Assad and ISIL. He has also heavily criticised Obama's role in Ukraine, arguing that the West should provide the country with weaponry to fight Russian separatists.
As the next guest on The Global Conversation, Senator McCain will meet euronews' Isabelle Kumar to answer some of your questions. From the political situation in Ukraine, the fight against ISIL, to the US midterms and 2016 presidential elections – what would you ask the man who is next in line to head the Senate's powerful Armed Services Committee? Send us your questions and we will select some to ask during the interview. You can do this either via the Facebook post below or send it on Twitter with #AskMcCain.
You can watch our interview with Senator McCain on air and online from 20:40 CET November 28.