Watch: Pedestrian lucky to be alive after remarkable accident escape
Comments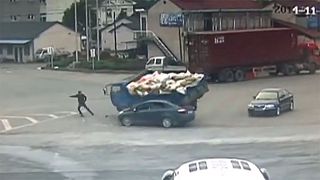 A pedestrian is today lucky to be alive after coming inches from being mowed down in a two-vehicle smash in China.
He was walking across a junction in eastern Zhejiang Province when the drama unfolded.
A small lorry, swerving to avoid a car in its path, was at one point careering towards him.
But the blue truck collided with the car, changing its course, which saw the two vehicles swerve either side of the pedestrian.
It comes in the week of another remarkable traffic accident in the province. A moped was mowed down by a car, with a woman trapped underneath the vehicle, reported Shanghaiist. The footage shows onlookers then lifting the car, to help save the woman.
In 2010, there were 65,000 deaths as a result of road traffic accidents in China, according to figures quoted in a report by the World Health Organisation. A quarter of these were pedestrians, the data reveals.
The report showed China had 20.5 road accident deaths per 100,000 people in 2010, higher than India, 18.9, the United States, 11.4 and the United Kingdom 3.7.