Who are the Abu Ali Mustafa Brigades?
Comments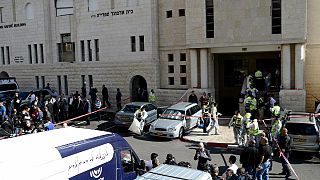 Who are the Abu Ali Mustafa Brigades, the group reported to be behind Tuesday's attack on a synagogue in Jerusalem?
The group is the military wing of the Popular Front for the Liberation of Palestine (PFLP), a radical Marxist-Leninist faction within the Palestine Liberation Organisation.
The armed group is named after the former PFLP leader, Abu Ali Mustafa, who was killed in an Israeli airstrike on August 27, 2001. His office in the West Bank town of Ramallah was hit by two missiles fired from a helicopter during the Second Intifada, the BBC reported.
In a statement released after Tuesday's attack on the Kehilat Bnei Torah synagogue in Jerusalem, the PFLP praised two of its members – identified as cousins Ghassan and Oday Abu Jamal – who carried out what the PFLP hailed as an "heroic" act. The group did not, however, claim responsibility for the attack.
Here's the PFLP statement in English. Praise for 2 members who carried out attack but no claim of responsibility. pic.twitter.com/HSMsBGXZY4

— Dalia Hatuqa (@DaliaHatuqa) 18 Novembre 2014
"We comment any act aiming at uprooting Jewish occupation which is desecrating our homeland. This operation, like many other heroic ones, comes as a natural response to the crimes perpetrated by the Israeli occupation and as a form of popular resistance," the statement said.
In a declaration published on November 13 on its website, the PFLP " saluted the escalating heroic operations against Israeli soldiers and settlers in occupied Palestine, especially in the West Bank and Jerusalem."
The radical group also "urged the masses of our people in every part of Palestine to continue and escalate the popular struggle to an overwhelming popular intifada against the Israeli occupation, and for our people in the Diaspora to escalate their support for the struggle inside."
The PFLP is on the official list of terrorist organisations of the European Union, the United States and Canada.
According to the US State Department, the PFLP, "earned a reputation for large-scale international attacks in the 1960s and 1970s, including airline hijackings." The group stepped up its activities during the Second Intifada, with suicide bombings, rocket attacks, and the assassination of Israeli Tourism Minister Rehavam Ze'evi in 2001 to avenge Abu Ali Mustafa's death.
More recently, adds the State Department, a "spokesman for the Abu Ali Mustafa Brigades, the armed wing of the PFLP, commented that the group received training in Damascus from Hizbollah."