Mafia swearing-in ceremony captured on camera for first time
Comments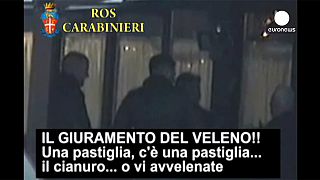 The first footage of a mafia swearing-in ceremony has been captured in Italy, police say.
The unprecedented images, showing an initiation ritual for Calabria-founded 'Ndrangheta, were recorded during a two-year mafia probe.
Milan prosecutor Ilda Boccassini said the investigation has led to 40 arrests.
It comes after Italian President Giorgio Napolitano – giving evidence at a trial in October – denied collusion between the state and mafia during the 1990s.
The initiation ceremony shown in the footage paves the way for entry into the highest level of affiliation in the 'Ndrangheta, known as La Santa. Security concerns around its top bosses prompted the creation of this secret society, which was intended to maximise their invisibility.
The transcript of the ceremony, see below, shows that by moving into the top echelons of the organisation, mafia bosses are expected to judge themselves, in direct contrast to their foot soldiers.
It sheds light on what is expected of mafia bosses if they fail, seemingly giving the choice between poisoning or shooting themselves.
There is also evidence of the high esteem in which the organisation holds former Italian generals, who played a key part in the founding of Italy, such as Giuseppe Garibaldi and Giuseppe Mazzini.
Boccassini said: "It's the first time that the swearing-in, with the awarding of roles and tasks, has been documented."
The 40 arrests are mainly members of three clans based in Como and Lecco, two cities north of Milan, but affiliated with Calabrian crime families, suggesting the mafia has infiltrated the rich northern regions of the country.
'Ndrangheta was founded in Calabria, a region in the south of the country, or the toe on Italy's boot.
It is thought to be linked to the more-famous Sicilian Cosa Nostra, but acts independently.
FULL

VIDEO

AND

TRANSCRIPT
The transcript, translated from Italian, is often rambling, so we have provided the edited highlights below.
"Indeed on this holy evening, in the silence of night, under the light of stars and the splendour of the moon, I form the holy chain, in name of Garibaldi, Mazzini and La Marmora, with words of humbleness I form the holy society.
"I swear, to repudiate, altogether up to the seventh generation, all the criminal society that I have recognised so far, in order to defend the honour of my wise brothers!"
"Now you must take a different path. You must have arms. You must repudiate all you knew until yesterday. Here [in the 'Ndrangheta] there are two possibilities: the mountains [mafia foot soldier] and the holy mountains [being a mafia boss]
"Today, from now on, you judge yourself.
There are two possibilities: if in your life you fail to do something important, your brothers must not judge you. You must know by yourself that you failed and you must choose the way to follow.
"The oath of poison! A pill, there is a pill! Cyanide. You poison yourself or you take this one that shoots, the bullets in the gun. You always keep one bullet, that is for you."