Philae finds organic molecules on comet
Comments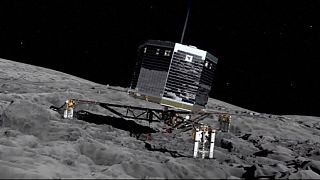 The Rosetta probe has managed to detect organic molecules in the comet's atmosphere, before it ran out of power.
The Philae lander instruments 'sniffed' the compounds which are believed to contain the carbon element that is the basis of life on Earth, though the principal investigator Dr Fred Goessman said they were still working to interpret the results.
Comets date back to the formation of the solar system and have preserved ancient organic molecules like a time capsule.
The European Space Agency craft landed on the comet on November 12 after a ten year long journey.
Scientists raced to perform as many experiments as possible before it lost power at the weekend.
They remain hopeful that as the comet 67P/Churyumov-Gerasimenko approaches the sun in the coming months, Philae's solar panels will recharge and they can take up where they left off in the search for the origins of life on Earth.