Washington sees progress in fight against ISIL but predicts long campaign
Comments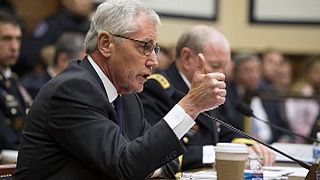 The US government has voiced cautious optimism in the fight against Islamic militants in Iraq and Syria.
Defense Secretary Chuck Hagel said that the US-led coalition was making progress, but the campaign against ISIL would be long and difficult.
Speaking before the Armed Services Committee of the House of Representatives on Thursday, Hagel said "ISIL's advance in parts of Iraq has stalled, and in some cases been reversed, by Iraqi, Kurdish and tribal forces supported by U.S. and coalition airstrikes."
And as Iraqi forces strengthen, "the tempo and intensity of our coalition's air campaign will accelerate in tandem," Hagel added.
Hagel said the pressure is having an effect on potential ISIL recruits and collaborators striking a blow to morale and recruitment. "We know that. Our intelligence is very clear on that."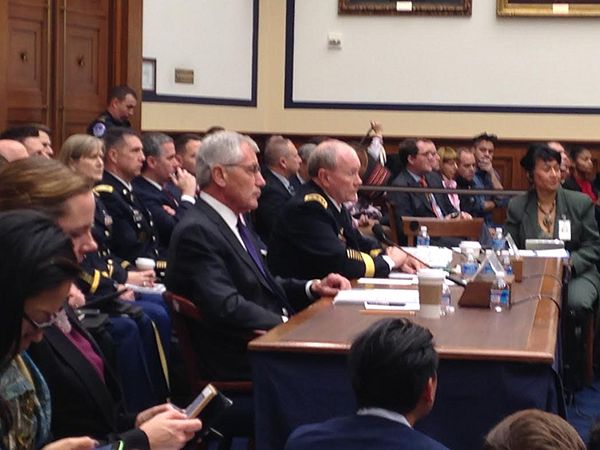 Also at the witness table was the Chairman of the Joint Chiefs of Staff, General Martin Dempsey. He suggested Washington would consider sending a modest number of US troops to fight alongside Iraqi forces, as operations against ISIL become more complex.
"I'm not predicting at this point that I would recommend that those forces in Mosul or along the border would need to be accompanied by US forces, but we're certainly considering it,"
Dempsey said.
Iraq will need about 80,000 effective military troops to retake the terrain it lost to Islamic State militants, including the strategically vital city of Mosul, and restore its border with Syria, according to the top US general.
Thursday's hearing came after President Barack Obama last week authorized additional 1500 US troops in Iraq in noncombat roles, roughly doubling the number of American military personnel already in that country.
Hagel once again stressed that those troops would not be engaged in ground combat. Dempsey said the request for more US forces in Iraq would create centers to help train the additional troops needed.
In addition, Obama requested additional $5.6 billion in funding to fight ISIL. "This fund will be critical for enabling Iraqi Security Forces, including Kurdish and tribal forces, to go on the offensive in 2015," Hagel said, "and it will require the Iraqi government and coalition members to make significant contributions as well."
The mission to train and equip moderate Syrian rebels, which was approved by Congress in September, will not begin to make a difference on the ground for another eight to 12 months, Hagel said.
"We know the opposition will continue to face intense pressure in a multi-front battle space, and we are considering options for how US and coalition forces can further support these forces once they are trained and equipped. Our strategy in Syria will demand time, patience, and perseverance to deliver results. We cannot accomplish our objectives in Syria all at once," he said.