Creativity matters in the classroom, but can it be taught?
Comments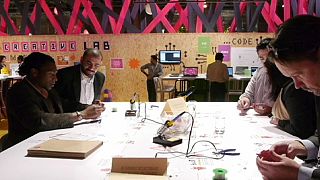 Creativity is the hot topic at this year's World Innovation Summit for Education in Doha, as people from that world consider how learning can be more entertaining.
But within a system focused on improving results and competitiveness, what can teachers do to unlock creativity?
Paul Collard, who runs an organisation called Creativity, Culture and Education, thinks he has some answers in the forum entitled 'From Impossible to I'm Possible'.
He told euronews: "We train creative professionals, artists , filmmakers, designers to go into schools to work with teachers to help teachers reinvent or re-image learning in their classrooms. If you are in the classroom with the children working with them you see real long sustainable change in the class."
Paul Collard's programme is widely used, and particularity in schools in Northern and Eastern Europe. But, we asked him, what goes into being creative?
His reply: "We have a very clear definition that we call the habits of mind and they are: being imaginative, which people associate but also being curious, being disciplined, being resilient, being collaborative."
Other panelists at the summit explored how neurosciences and cognitive sciences can improve creativity and critical thinking.
Nascira Ramia, Director of Graduate Programmes in Education, Universidad San Francisco de Quito, Ecuador, said: "We have to see education as an interdisciplinary science, as a science which has to move forward and make progress, a science we have to participate in. We want teachers to be trained with all these different new skills. They have to participate in the research and then they're better equipped to make day-to-day decisions in the classroom."
Aurora Vélez covering the event in Doha, Qatar for euronews concluded: "Those attending the summit have a chance to prove how creative they are. The computer coding training and the "do it yourself" sessions seem to be the most popular with the more than 1,600 people attending this World Innovation Summit for Education – a three day marathon with more than 80 debates and workshops."