Crash-test dummies go up a size to help save obese drivers
Comments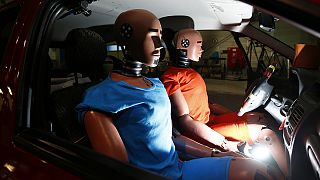 A manufacturer of crash-test dummies has upgraded its models to XXL size after it was found that obese drivers are almost 80 percent more likely to die in a car crash.
Humanetics says it is making bigger-boned dummies that are now based on a 273lb person. This equates to 124kg or 19.5 stones and a BMI index of 35.
Seat belts are designed for slimmer people and don't fit those of a larger persuasion, Chris O' Connor, CEO of Humanetics told ABC.
"Typically you want someone in a very tight position with their rear against the back of the seat and the seat belt tight to the pelvis," he added.
"An obese person has more mass around midsection and a larger rear which pushes them out of position. They sit further forward and the belt does not grasp the pelvis as easily."
This is backed up by a study from the University of Bufallo and Erie County, which analysed 150,000 car crashes in the U.S. between 2000 to 2005, found that moderately-obese drivers faced a 21 percent increased risk of death, and morbidly obese drivers faced a 56 percent increased risk of death.