Clown terror no laughing matter for France
Comments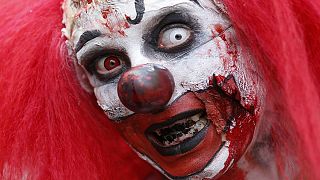 Panic over weapon-wielding clowns reached new heights over the weekend as the phenomenon spread to southern France.
Fourteen teenagers, dressed as clowns and carrying pistols, knives and baseball bats, were arrested by police in the Mediterranean port of Agde on Saturday night, according to AFP.
A man disguised as a clown was arrested in nearby Montpellier after beating up a pedestrian with an iron bar, the news agency reported.
The trend, which has also appeared in the United States and Britain, has sparked vigilante violence, too.
Five teenagers, reportedly equipped with a baseball bat and hammer, were arrested in Mulhouse allegedly intending to mete out justice to some pranksters. Several clown-hunting groups have sprung up on Facebook, while another, which is against the trend and reports sightings of the pranksters, has more than 12,000 likes.
In Bethune, northern France, a 19-year-old was given a suspended six-month jail term last week for threatening passers-by while dressed as a clown.
But the origin of the trend is unclear, in a country where the American fear-fest Halloween has yet to take hold.
Yet, such is its magnitude, it has caught the attention of France's national police. They released a statement, which read: "Since mid-October, a rumour inspired by videos published on the Internet, is worrying the population about the presence of threatening and aggressive clowns in France.
It cautioned that "despite numerous reports made to police, there have been only a few sightings of people dressed as clowns having fun scaring passers-by."
"Symptomatic of the impact of the Internet, this phenomenon can lead to damaging individual acts and disturbances to public order," it said.