Putin doll expected to fetch thousands at auction
Comments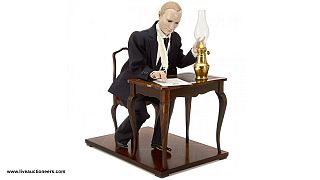 How much would you expect to pay for an automated figure of Russian President Vladimir Putin? A 'Contemporary Musical Automation Portrait' of the renowned leader is predicted to fetch much more than the listed start price of 18,000 euros.
Named 'Putin Ecrivain' (Putin the Writer), Christian Bailly's model depicts the president signing into law Russia's annexation of the Ukrainian territories of Crimea and Sevastopol on March 18, 2014. It is said to have been inspired by Gustave Vichy's classic musical automaton 'Pierrot Ecrivain', which was made in circa 1895.
In Bailly's creation, Putin is 'seated at rosewood writing desk, with quill pen and a battery-powered brass lamp, dressed in blue wool suit, spotted tie and hand-sewn leather shoes', according to a description of the doll provided by New York-based site Live Auctioneers.
And the lucky winner will be able to see the figure re-enact the moment the 'Treaty of Acceptance of the Republic of Crimea into the Russian Federation' over and over again as, accompanied by the sound of a traditional Russian waltz, 'Putin's right hand moves across the paper with a realistic motion, followed by his concentrated gaze until apparently tired by his efforts, the lamp light dims and his head falls, as though on the verge of sleep,' the description states. 'Waking, he turns up the lamp and continues writing.'
The 50-centimetre figurine is estimated to fetch between 25 and 35,000 euros when the auction goes live in German auction house Auction Team Breker on November 15.