Far-right leader Le Pen to visit Calais over 'influx of migrants'
Comments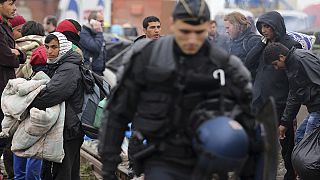 QUICK
FACTS
Up to 2,300 migrants are in-or-around Calais, according to Denis Robin, a senior official in the port town, up from 1,500 at the end of the summer.
The UN says 50 million were forced from their homes worldwide in 2013, the highest figure since World War II.
Nine migrants have died in or around Calais in 2014, according to the Calais Migrant Solidarity website
French far-right leader Marine Le Pen is due in Calais on Friday (October 24) amid escalating tensions over migrants.
Riot police used tear gas on Wednesday (October 22) to ward off hundreds of immigrants seeking to jump on trucks bound for Britain.
It came as Denis Robin, a senior official from Calais, said there were up to 2,300 migrants in or around the northern port town, up from 1,500 at the end of the summer. A large majority are thought to be those fleeing humanitarian crises in Africa and the Middle East.
The UN says, with violence in the Middle East and Africa, 50 million people were forced from their homes worldwide in 2013, the highest number since World War II
Le Pen, whose Front National party won its first-ever seats to the French Senate last month, announced in a statement she would visit Calais to discuss "the very serious situation in the town after the influx of hundreds more illegal immigrants".
Calais mayor Natacha Bouchart has called on the British to take more responsibility over the issue.
But former British home secretary Michael Howard, now Lord Howard, told BBC Radio 4's Today programme: "The general principle which every member state of the European Union has subscribed to is that refugees, people fleeing persecution, should apply for asylum in the first safe country they reach.
"France used to take this very seriously. When I was home secretary, which was quite a long time ago now, we had an agreement with France under which if people came to the UK from France and claimed asylum we returned them to France and France dealt with their claim.
"That is what really ought to happen."
TIMELINE

:

CALAIS

AND

MIGRANTS
Sangatte refugee camp was setup by the Red Cross and French government in 1999 to house around 900 migrants.
But it was closed down in 2002 amid French and British fears it was being used as a base for human trafficking.
The number of illegal immigrants detected entering Kent from Calais fell 88%, from 10,000 in 2002 to 1,500 in 2006, according to the BBC.
Despite Sangatte's closure, illegal camps continued to spring up.
In 2009 French police carried out a dawn raid on a camp dubbed The Jungle, which housed an estimated 700-800 immigrants.
Last month scores of migrants tried to force their way onto a ferry at Calais, bound for the UK.
It prompted Calais mayor Nathalie Bouchart to threaten to blockade the port if the UK did not do more to help, saying the town has been taken hostage by migrants.
On September 15, France and UK announced an agreement that will see Britain contribute 15 million euros over three years to help improve border controls.
Then yesterday, October 22, police used tear gas to ward off hundreds of immigrants seeking to jump onto trucks bound for Britain.
Last month it was announced the UK government would contribute £12 million (15 million euros) over the next three years to improve border security at the port.
The port has long been a magnet for illegal migrants trying to reach Britain, where they believe they are more likely to find work. Britain is one of a handful of EU states not to have abolished internal borders under the Schengen Agreement.
Lord Howard added: "We have control of our borders. But it is the countries of the Schengen agreement that ought to get their act together and deal with this problem. We have retained control of our borders, and it is about time members of the Schengen agreement did the same."

WHY

DO

MIGRANTS

WANT

TO

COME

TO

THE

UK?
Some will say the reason migrants come to the UK is to take advantage of better benefits.
But the British Red Cross claim this is a myth, instead saying migrants see the UK as offering a better chance of finding work.
They say a single asylum seeker gets £36.62 a week to live on, less than France and some other European countries.
Refugee Action say a UK Home Office report concluded there was absolutely no evidence to suggest that asylum seekers had a detailed knowledge of the UK's policies or welfare benefits.
The charity added: "The report concluded that the main reasons why some people seek asylum here are their countries' historic links with good old colonial Britain, the presence of family and friends and the fact that English is a global language. Not because it is a sure-fire bet for a new life that's sugar-coated with state benefits."