WWII Nazi U-boat wreck found on bottom of the Atlantic ocean
Comments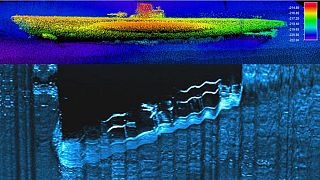 The wrecks of a German Nazi submarine and a US trade ship, which sank during WWII, have been found off the North Carolina shores, US authorities said on Tuesday.
Sunk during the Battle of the Atlantic, the two vessels were lying 220 metres apart, some 48 kilometres from land, according to the National Oceanic and Atmospheric Administration team, which spotted the wrecks last August.
The discovery of the German submarine U-576 and the cargo ship Bluefields is a trip back to the past. On July 15, 1942, a convoy of 19 merchant ships coming from Norfolk, Virginia, to Key West, Florida, was attacked, despite a US Navy and Coastguard escort. The U-576 sank Bluefields and severely damaged two other ships, according to the NOAA. In response, the U-boat was bombed by an aircraft and shelled by a merchant ship equipped with a deck gun.
The Bluefields cargo ship did not suffer any casualties during the sinking. However, according to the NOAA, 45 German sailors died when the U-576 went down.
"We have discovered an important battle site that is part of the Battle of the Atlantic. These two ships rest only a few hundred yards apart and together help us interpret and share their forgotten stories" stated Joe Hoyt, an NOAA sanctuary scientist and chief scientist for the expedition.
"Most people associate the Battle of the Atlantic with the cold, icy waters of the North Atlantic," said David Alberg, superintendent of NOAA's Monitor National Marine Sanctuary. "But few people realize how close the war actually came to America's shores. As we learn more about the underwater battlefield, Bluefields and U-576 will provide additional insight into a relatively little-known chapter in American history."
The search for the wrecks was started earlier this year, with the help of naval archives. In August, naval archeologists had localised and identified the two wrecks.