Do you have a question for French designer Philippe Starck?
Comments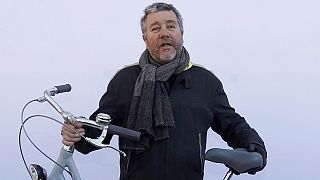 Influential creator and architect Philippe Starck first became widely known in the 1980s and is today considered a legend of modern design.
He has received public acclaim for his interior design work but is equally acknowledged for his product and industrial designs, from everyday items such as lemon squeezers and furniture, to revolutionary mega-yachts and micro wind turbines.
Stark describes his work as: "subversive, ethical, ecological, political, fun: this is how I see my duty as a creator".
Have you got something to ask?
Starck will be meeting euronews' Isabelle Kumar on the The Global Conversation. Send your questions using #AskStarck on Twitter or add it to the Facebook post below and we will select the best to ask during the interview.
Tomorrow @Isabelle_kumar will interview Philippe Starck in The Global Conversation #AskStarckhttps://t.co/HHSkB9n4Vx

— euronews (@euronews) October 14, 2014