Europe is the only one of the world's biggest four polluters to have reduced carbon emissions, latest figures reveal.
India, with a 5% hike, China and the US all saw their outputs increase in 2013, while the European Union recorded a drop of around 1.8%, according to data from the Global Carbon Project (GCP).
The figures have been published ahead of the UN's climate summit in New York on Wednesday (September 22) where world leaders will seek to take concrete steps to tackle the problem.
WORLD TOP 10 CARBON EMITTERS - 2013
Measure - million tonnes of CO2. Source: Global Carbon Project.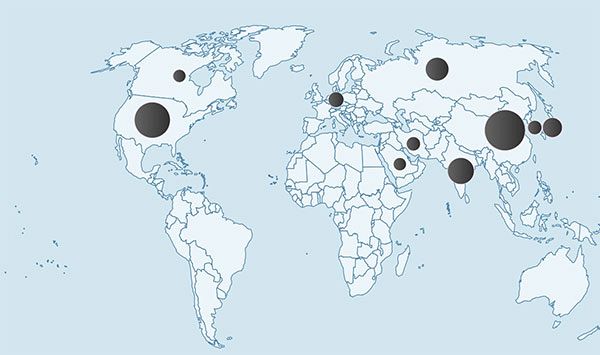 China --> 9977
US --> 5233
EU --> 3487
India --> 2407
Russia --> 1812
Japan --> 1246
Germany --> 759
South Korea --> 616
Iran --> 611
Saudi Arabia --> 519
Scientists say at the current rate of CO2 emissions safeguards aimed at keeping average global warming under 2 degrees celsius are likely to be breached with 30 years.
CO2 emissions are projected to rise 2.5 per cent in 2014, according to researchers at the University of East Anglia (UEA).
China's emissions per person overtook the EU's for the first time, added UEA. Its output is bigger than the US and the EU's combined, but 16 per cent of this is for exported goods and services.
Connie Hedegaard, the EU's commissioner for climate action, said on Twitter the climate change problem could not be solved without a strong contribution from China.
She added in a statement: "More and more people around the planet get to find out the hard way that climate change is no longer a distant threat. Just two weeks ago, floods have hit the areas of Jammu and Kashmir, but whether it is floods here, and droughts there – it's clear that climate change has arrived already."
In Europe, Spain, Romania, Greece, Lithuania, Bulgaria and the United Kingdom were among countries to reduce their output in 2013, compared with the previous 12 months.
Germany, the EU's biggest emitter and the seventh largest worldwide, saw its figures climb by 2.4 per cent.
The UK, Italy and France are the continent's other big polluters, although France was the only country of the three to record an increase.
EUROPEAN UNION RANKINGS - 2013
Measure - million tonnes of CO2. Source: Global Carbon Project.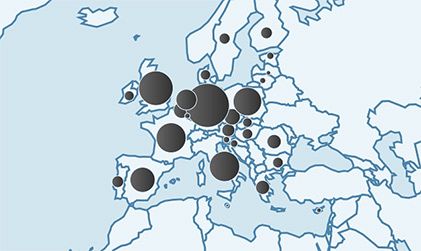 Germany --> 759
UK --> 462
Italy --> 353
France --> 344
Poland --> 312
Spain --> 240
Netherlands --> 165
Czech Republic --> 101
Belgium --> 99
Romania --> 76
Greece --> 74
Austria --> 63
Portugal --> 52
Finland --> 50
Sweden --> 45
Bulgaria --> 42
Hungary --> 41
Denmark --> 40
Ireland --> 37
Slovakia --> 34
Croatia --> 21
Estonia --> 19
Slovenia --> 16
Lithuania --> 13
Luxembourg --> 11
Cyprus --> 7.7
Latvia --> 7.4
Malta --> 2.6
The EU has made a commitment to reduce over carbon emissions by 20 per cent – from 1990 levels – by 2020.
It has offered to increase this to 30% if other major economies take their fair share of responsibility for reducing the world's emissions.
Leaders from China, India and Russia – three of the world's five biggest emitters – will not be attending the climate summit in New York.
Prof Pierre Friedlingstein, involved with GCP and from the University of Exeter said: "The time for a quiet evolution in our attitudes towards climate change is now over. Delaying action is not an option – we need to act together, and act quickly, if we are to stand a chance of avoiding climate change not long into the future, but within many of our own lifetimes.
"We have already used two-thirds of the total amount of carbon we can burn, in order to keep warming below the crucial 2°C level. If we carry on at the current rate we will reach our limit in as little as 30 years' time – and that is without any continued growth in emission levels. The implication of no immediate action is worryingly clear – either we take a collective responsibility to make a difference, and soon, or it will be too late."
Hot Topic
Learn more about
Global warming and climate change