Doing business in Russia, despite the economic sanctions
Comments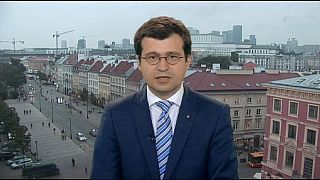 Economic sanctions are one way that the European Union and the United States hope to get the Kremlin to stop backing pro-Russian separatists in eastern Ukraine.
But they are double-edged: some say they are hitting those that do business in Russia too hard.
Many companies, particularly in Europe, have said they will keep their trade links with Russia as much as possible.
More than 6,000 German firms are active there, with the likes of Volkswagen, Daimler and BMW feeling the effects already.
Business leaders have been lobbying governments, asking them to tone down or limit the sanctions.
But it is important to remember that they are targeted – with energy, defence and finance at the top of the list, which means plenty of companies can continue doing business in Russia, if they are careful.
Euronews spoke to Sergej Sumlenny, with Russia Consulting, which helps German businesses in the Russian market.
Natalia Marshalkovich, euronews: "Tell us, with sanctions getting tougher, what should Western companies do if they still want to work in Russia?"
Sergej Sumlenny: "If a Western company wants to continue business in Russia, it has to follow a few very simple steps, first of all checking out all its contacts. As you know, the American and European sanctions ban any business contact with companies on the sanctions list, as well as their subsidiaries (if they control 50 percent of the shares or more). A foreign company in Russia has to check the ownership structure of each company it is dealing with — suppliers, customers, partners, etc — and see if they are directly or indirectly linked to the blacklist."
euronews: "I suppose that means Western companies have to really change the way they work under the sanctions. Do you see business quitting the Russian market because of that?"
Sumlenny: "Obviously, this concerns the companies operating in the sectors most affected by the sanctions. For instance, the German companies that supply military equipment or dual-use equipment, or, for example, oil extraction technologies — all these areas are under sanctions now. Companies need to revise their work format and decide if they want to stay in Russia.
"But it should be clear that all the affected sectors represent a relatively small number of companies. In general, most German companies in Russia sell machine tools or provide services. They are not directly affected by the sanctions. They're still working, but they definitely need to check out all their business relations.
"In general, German and European companies are continuing to work in Russia because it is still an attractive market for them. Certainly this spiral of sanctions is unbalancing business strategies somewhat. We know that a large number of companies have already frozen their investment projects in Russia, companies are trying to put their money on hold.
"But they're keeping their long-term plans. For example, most German companies in Russia are medium-sized. Around 6,000 German companies are working in Russia now, so their plans are long-term plans, not for a few months or a year; their strategy is designed for several years or even decades. And with a long-term vision these companies are going to stay in Russia."
euronews: "European sanctions have provoked Russian government so-called counter-sanctions. How might this affect Europeans' willingness to stay in this market?"
Sumlenny: "Sanctions always provoke a response. We're in a situation that threatens to become a vicious cycle of sanctions. The Russian authorities have already said they'll respond to European sanctions. If Europe in turn — the EU — imposes more sanctions, the situation would become even more difficult for companies. Business would get very uncomfortable if sanctions begin to spread, creating more and more problems with investment."