Asteroid poised for close encounter with Earth
Comments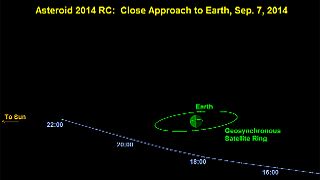 A small asteroid measuring about 60ft (20m) is due to pass by Earth this Sunday, 7 September.
At its closest approach, Asteroid 2014 RC will be roughly 25,000 (40,000km) from our planet, or one-tenth the distance from the centre of Earth to the moon. It is projected to pass over New Zealand.
The object will not be visible to the naked eye but amateur astronomers with small telescopes may be able to get a glimpse as it passes by.
There is no danger of it posing a threat to the planet and its close proximity will allow it be studied and give researchers a chance to learn more about these celestial objects.
The asteroid will pass below the ring of communications and weather satellites that orbit above the planet's surface. Its orbit will bring it back to the vicinity of Earth in the future.
Flyby of asteroid 2014 RC will look a lot like 2012 DA14. AstronomyNow</a> <a href="https://twitter.com/EpicCosmos">EpicCosmosThe_SolarSystem</a> <a href="https://twitter.com/TheUniverse_TM">TheUniverse_TMpic.twitter.com/VMkNLJIKRf

— David Finlay (@ClearSkiesTV) September 5, 2014
At 21-metres in size passing 18,600 mi distant, estimates suggest asteroid 2014 RC "may" break +10 mag, interesting-will advise.

— David Dickinson (@Astroguyz) September 4, 2014