Calais mayor threatens port closure over UK immigration policy
Comments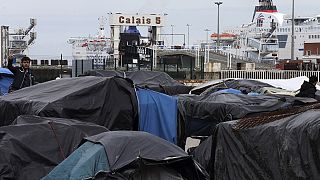 The mayor of Calais says she will shut down the town's port unless Britain takes urgent steps to stem the flood of immigrants trying to cross the Channel.
Natacha Bouchart said she was unhappy that Britain wanted more security at the port but was unwilling to contribute financially to a project that costs €10m (£8m) a year.
"I could take a decision to shut down the port, she told Interior Minister Bernard Cazeneuve. "I could bring pressure to bear. It would be illegal but today I want to make a strong gesture towards the British."
Calais is forced to deal with more than 1,200 migrants – mostly Eritreans, Sudanese and Afghans – who squat in disused buildings or temporary camps as they attempt to get to the UK.
Mr Cazeneuve said Britain must step up and take more responsibility.
"I hope we find a global solution to Calais, to ensure human support to migrants and to bring security and peace.
"We can do this by identifying a broad consensus with elected officials, associations, and Europe, around coherent and realistic measures.
"We should also compel the British to take responsibility."
Bouchart and Cazeneuve have agreed to open a day-centre in Calais and a night shelter for women and children.