Making people disappear - scale of global oppression is uncovered
Comments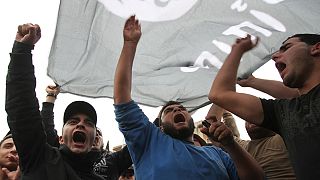 The regime in Syria has been given a free rein to continue its 'ruthless campaign of enforced disappearances', it's been claimed.
Amnesty International says Syrians are being 'hauled off into the abyss of secret detention as a tool to crush dissent'.
It hit out at the UN Security Council for failing to tackle people being secretly abducted, detained, killed or tortured.
Up to 120,000 Syrians have disappeared at the hands of the security forces, according to human rights groups.
The Red Cross says it is currently trying to establish the fate of 52,000 people worldwide.
Marianne Pecassou, of the International Committee of the Red Cross (ICRC), said: "This figure is just the tip of the iceberg, since these cases are only the ones brought to the attention of the ICRC by relatives. We know that many more people remain unaccounted for around the world."
The organisation claims the number of people missing worldwide is 'staggering', including: 68,000 in Columbia; 13,000 in Peru; and 11,000 in connection with the Balkan conflict.
The figures have emerged ahead of the International Day of the Disappeared on Saturday, August 30.
Ms Pecassou added: "When people disappear, there are two kinds of victims: the individuals who have gone missing and their families, torn between despair and hope, living with uncertainty and pain, waiting for news, sometimes for decades."
Amnesty International says enforced disappearances are continuing in Syria, six months after the UN put in an end to the practice.
"People in Syria are hauled off into the abyss of secret detention on a regular basis, providing clear evidence of the authorities' systematic use of enforced disappearance as a tool to crush dissent," said Philip Luther, director of Amnesty International's Middle East and North Africa Programme.
"Despite the adoption of a UN Security Council resolution in February demanding an end to enforced disappearances and other human rights abuses, countless perceived opponents of the Syrian government – including activists, journalists, medics and lawyers – are routinely plucked off the streets or seized from their homes only to disappear into virtual black holes.
"Promises by UN Security Council members to take action against those flagrantly flouting the terms of the resolution on Syria have manifestly failed to materialize. This has effectively given the Syrian government free rein to continue its ruthless campaign of enforced disappearance unpunished."
The initiative for an International Day of the Disappeared emerged in 1983 amid an alarming rise of disappearances by authoritarian regimes in Latin America, according to the Human Rights Education Association.