Where next for Erdogan's 'New Turkey'?
Comments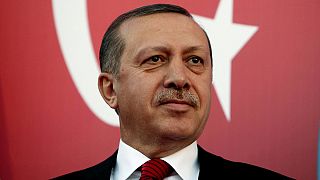 Immediately after his inauguration, Recep Tayyip Erdogan went to Ataturk's mausoleum in Ankara to lay a wreath.
The new president is arguably the most influential Turkish leader since the man seen as the republic's founder.
Erdogan has come to dominate political life in Turkey. The once-powerful military has been neutered; he has strong support in business and the media.
For his critics Erdogan and his AK party epitomise a new type of rule in Turkey that's increasingly autocratic and sometimes over-religious.
Environmental protesters, anti-corruption investigators and journalists have been targeted and many jailed after tackling the establishment.
Erdogan is now seeking to revive some long-lost presidential powers.
But to change the constitution in order to do so, he needs a two-thirds parliamentary majority. At the moment his party doesn't have enough support ahead of general elections next year.
In government he will be looking for the loyal backing of his new prime minister.
Ahmet Davutoglu is a close ally of Erdogan's, seen as sharing his vision.
For insight into where Turkey might be headed – with Recep Tayyip Erdogan as president and Ahmet Davutoglu as prime minister – euronews spoke to Professor Talip Kucukcan, political analyst and Director of the Institute for Middle Eastern Studies at Marmara University in Istanbul.
Bora Bayraktar, euronews:
"The new president (Erdogan) has been sworn in. How do you think he'll rule Turkey?"
Talip Kucukcan, political analyst:
"For the first time in Turkey a president has been elected by popular vote, this is new. For that reason we should see this as the beginning of a new era. Erdogan underlines the fact that the country has been in transition for 12 years and he says that this change will continue. It's rhetoric that he uses frequently – the concept of a 'New Turkey'.
"We can assume that he'll be active in foreign policy too. In his presidential vision document he raises the issue of global justice. We saw that (from him) in the Gaza crisis, and in addressing poverty in Somalia during his mandate as prime minister. He'll try to influence the international community and the United Nations to reach his goal of global justice and equality.
"There are certain differences between the so-called 'Old' and the 'New Turkey', it's not only about rhetoric. In the 'Old Turkey' political participation was limited and rights and freedoms were restricted.
"It was also politically unstable. In the 1990s and in the first decade of the 21st century there were elections every one and a half years. The media was monopolised and capital was monopolised.
"The 'New Turkey', however, means a more plural Turkey. It means a country where reforms are brought in step-by-step in line with the integration process to the EU. It's also a Turkey where the impact of the military is minimal and political participation is rising."
euronews:
"Davutoglu is now leading the AK Party and the country. What kind of prime minister will he be?"
Talip Kucukcan:
"Ahmet Davutoglu is an important intellectual. His term in office as prime minister should be seen as a continuation of 12 years of AK Party rule, not as a new era. He will add more dynamism and younger elements to the party. Because of the three term ban, many experienced MPs will leave parliament after the next general elections.
"Davutoglu is aware that an intelligent way of ruling will come with increased consolidation – by diminishing polarisation and strengthening democracy. And this is related to Turkey's relations with the EU."