Indicted Texas Governor: Obama wrong on border crisis and weak on terrorism
Comments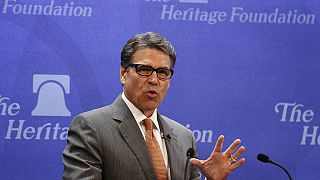 With the president on vacation and Congress in summer recess, August in Washington can be the right time for generating headlines, as a bored press corps is desperately looking for stories.
For provincial politicians and/or possible 2016 presidential candidates, that means: the spotlight is up for the taking.
On Thursday, Republican Texas Governor Rick Perry rode into town to face the media crowd in the US capital just days after being indicted on two felony charges of abusing power. A special prosecutor in Austin accuses him of having illegally vetoed the budget of a state agency that has investigates prominent Texas Republicans.
Perry claims that the charges are politically motivated, but so far he has cooperated with law enforcement authorities. His mug shot, being taken on Wednesday, went viral on social media and was widely distributed by his press office in an attempt to drum up national support for the governor.
In remarks at the Heritage Foundation, a conservative think tank, Perry touched upon his personal legal issues only briefly, saying that he intends "to stand up for the rule of law in Texas".
Instead, Perry lost no time attacking President Barack Obama for the alleged "misuse of presidential power" by trying to bypass Congress in the immigration crisis. Obama's failure to better protect the border against criminal immigrants has created a national security threat, Perry said.
The border is "the nearest front of national security, and I'm sorry to say that today, this front is largely undefended", Perry said.
"Defending the border is not a political option – it is a constitutional obligation, and until the federal government meets that duty and secures that border, all talk about border reform is pointless because Washington has no credibility," Perry said. Perry didn't come up with new ideas to solve the immigration crisis, but devoted most of his
speech to the ongoing crisis in Syria and Iraq, following the beheading of US journalist James Foley by members of the militant jihadist group Islamic State.
The Texas Governor suggested that terrorists from the Islamic State have likely already crossed into America through the insecure border with Mexico.
"Individuals from ISIS or other terrorist states could be, and I think it's a very real possibility that they have already used that," he said.
Perry admitted he had no clear evidence of it, but added that "common sense" tells you that the "lawlessness" at the border would allow it. He explained that the criminal activity and poor security conditions on the southern border left it unclear who was crossing into the United States.
On the domestic as well as the international front, Perry decried the absence of US presidential leadership and criticized the Obama administration for only slowly and reluctantly pulling back into considering military plans in Iraq and Syria to deal with the Islamic State jihadists.
But the time has come to confront the Islamic State "in overwhelming force". Perry said. "More air strikes are necessary."
Perry, who leaves the office of Texas Governor after the November elections, did not address his political future. But political observers believe his speech at the Heritage Foundation sounded very much like a warm-up to a presidential run in 2016.
After a disastrous primary campaign in 2012, Perry had pulled out of the race prematurely, leaving the Republican nomination to former Massachusetts governor Mitt Romney. Both Perry and Romney are considered potential candidates in 2016.