Getting chilly for charity: ice Bucket challenge takes over the world
Comments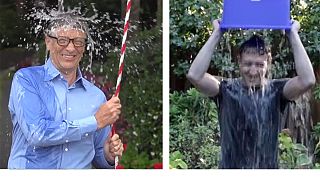 It is the latest internet craze, and a far more positive one than when earlier this year people nominated friends to be videoed drinking themselves senseless before posting the results.
This time, instead of demonstrating your macho mojo, the idea is to get people giving – donating money to charity.
It began this winter in the USA with a cancer charity, which was then followed by a Christian organisation, both of which decided a neat way to get cash was to nominate people to dump a bucket of ice water on their head within 24 hours of the invitation and post it online, or be liable for a $100 "fine".
The craze really took off when sports people with their extensive social networks started getting wet to raise money for motor neurone, or Lou Gehrig's disease. The trend went viral, conquering first America and then Britain.
Social networking's uberlord Mark Zuckerberg took up the challenge.
Then, unbelievably, so did Bill Gates.
Once the sports stars and philanthropists got on board, then everyone wanted to have a go.
There was Eddie Vedder's challenge, and the usual suspects who will grab any excuse to get their kit off for the fans, although to be fair Cristiano Ronaldo is no stranger to doing his bit for charity.
Of course no one was safe, with President Barack Obama being nomination-bombed by several celebrities. He declined, and made his donation quietly.
It is just the latest example of how the internet has the power to transform, and revolutionise traditional ways of promoting public awareness and raising money.
The Ice Bucket Challenge has already received more than 10 million euros for motor neurone research and the nominations keep on coming.
The stunt has also raised some interesting questions about funding for research as in this article.