No candidates are likely to thwart Erdogan, says polling analyst
Comments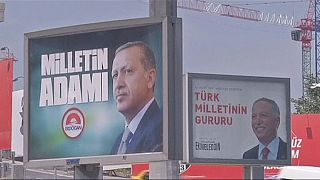 On August 10 and 24 Turks will, for the first time, be able to vote directly for their president. The result could represent an historic turning point for the country and set in motion a number of serious changes to the political and economic system.
The new president faces a number of challenges. On the domestic front things are pretty good, although the intractable problem of the Kurds remains.
Foreign policy is more tricky. All around Turkey's frontiers the world is in uproar with the Syrian and Iraqi crises. Turkey currently has more than one million Syrian refugees on its land.
''Turkey has had deep problems for many years which could not be solved and put aside. Like the Kurdish issue, the problems of Alawites, minorities, and devout Muslims' problems of living according to their identities," said Sabah newspaper journalist Mahmut Ovur.
After having handsomely won the local elections last March, Prime Minister Recep Tayyip Erdogan is preparing himself for the mantle of president of the Republic.
He is faced with two rivals, the main one endorsed by the mainstream opposition parties, and a Kurdish candidate. But Erdogan is the hot favourite and few fancy the others' chances.
If Erdogan is elected Turkey can expect a period of transition says this analyst:
''I think a president elected by the people will lead to a semi-presidential system. For this reason I think the prime minister's role will change accordingly, even though there is no constitutional amendment for this. And I believe the Justice and Democracy Party is prepared for this," said Mahmut Ovur.
The Turkish opposition is struggling to counter the current party in power. In the last 12 years the opposition parties have lost eight electoral or referendum votes in a row.
''The main problem here is the opposition's failure to produce policies. The opposition should have produced alternatives. As we know, the two main opposition parties have started to march behind a common candidate," said Mahmut Ovur.
That candidate is Ekmeleddin Ihsanoğlu. The former head of the Organisation of Islamic Co-operation is stumbling in the polls, which say he will be lucky to win 40 percent of the votes.
''It seems that the presidential elections will be an important turning point for Turkey. There will be busy times for both the opposition and government, and we may even be in for a transformation process," reports euronews' Bora Bayraktar in İstanbul.
In Istanbul euronews spoke to Adil Gür, who heads A&G Research, which is known for its accurate electoral polling.
euronews: "Both leading candidates, Prime Minister Recep Tayyip Erdogan and the Peoples Democratic Party candidate Selahattin Demirtas, are well known politicians.
"But Ekmeleddin Ihsanoğlu, who was nominated as the joint presidential candidate, is from outside politics, and few Turks know his name. Do you think this is a disadvantage?"
Adil Gür: "Polls conducted recently show Ihsanoğlu's name recognition at 80 to 90 percent, but knowing his name doesn't mean people know his politics. To be known people need to know where a candidate stands on political issues and the problems facing Turkey, like for example what to do about the Kurds? What's his foreign policy? It's important the electorate knows this. In this situation unfortunately Mr. Ihsanoğlu, even if his name's known now, is still at a disadvantage compared to the other two."
euronews: "In this election candidates, not parties, will be chosen. Do you think voters will vote for the candidate supported by their party or there will be a significant swing vote?"
Gür: "Our studies show that at the last local elections 97 percent of people who voted AKP voted for Erdogan. And 98.4 percent who voted for the People's Democratic party also voted for their candidate.
"But there's another candidate, Ihsanoğlu, who has picked up support from 10 smaller parties, even if it doesn't seem possible that the votes coming from them can be built into a solid block. Voting patterns are also likely to change this time. It seems that while their rival big parties are holding onto their loyalists, the CHP and MHP are slipping."
euronews: "In the first round if they can't get the 50 percent and HDP candidate Demirtas is out of the race, who will voters turn to in a second round?"
Gür: "In Turkey the people who vote for Demirtas are Kurds, and over the last decade of elections only two parties have taken any Kurdish votes; the AKP and HDP.
"That means a large number of HDP and BDP supporters will vote for Erdogan. I don't think a second round will be needed, someone will win outright."