Knocking on the roof caught on camera in Gaza
Comments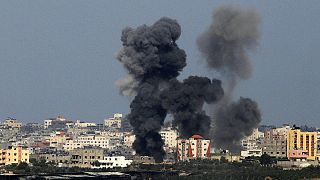 Caught on video for the first time is the practice of 'knocking on the roof'. Courtesy of a video posted online by a source that has not be fully authenticated, we see a Palestinian house being struck by a warning shot, designed to give the dwellers time to evacuate. The first bomb is non lethal. A few minutes later the house is obliterated by a live bomb.
The practice has been condemned by Amnesty International. Philip Luther, the organisation's Middle East and North Africa director, says shooting a building with a missile can be in no way an effective warning.
Israel's Ambassador to the United Nations claims Hamas regularly uses civilian roofs as human shields. In his address to the Security Council on Saturday July 10 he claimed it was guilty of targeting Israelis while hiding behind Palestinian civilians.
According to al-Mezan, a Human Rights group in Palestine, 194 people have died, including 37 children and 28 women, over the past nine days. In addition to this more than 1,200 have been injured, of which 330 are children. Al-Mezan claims that at least, 1,489 houses were destroyed or damaged during this period.
Israel believes its 'knocking on the roof' is a humane way of increasing collateral damage while limiting deaths.