Mursi one year on: torture claims suggest sharp drop in human rights
Comments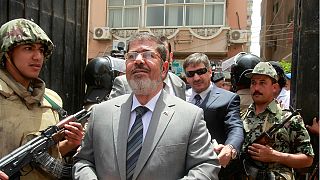 Torture and deaths in police custody point to a sharp decline in Egypt's human rights since Mohamed Mursi's oustting as president, it's been claimed.
State security – one year since Mursi was overthrown – is using the same torture methods as the darkest days of the Mubarak era, according to Amnesty International.
It claims detainees are being raped, given electric shocks and suspended from open doors.
WikiThawra, an initiative run by the Egyptian Center for Economic and Social Rights, says at least 80 people died in custody over the past year, while more than 40,000 were detained or indicted between July 2013 and mid-May 2014.
Mursi, Egypt's first civilian and Islamist president, was ousted by the military a year after being elected.
His removal, which followed days of mass anti-government protests, has prompted Islamist militants targeting police and soldiers with bomb attacks.
Egypt has recommended the death penalty to 683 defendants, following a mass trial in April. It includes 183 Muslim Brotherhood supporters, accused of an attack last year on a police station.
Watch euronews clips on downfall of Mohamed Mursi
Hassiba Hadj Sahraoui, deputy director of the Middle East and North Africa Programme at Amnesty International, said: "Egypt's notorious state security forces –currently known as National Security- are back and operating at full capacity, employing the same methods of torture and other ill-treatment used during the darkest hours of the Mubarak era."
"Despite repeated promises by current and former presidents to respect the rule of law, over the past year flagrant violations have continued at an astonishing rate, with security forces effectively granted a free rein to commit human rights violations with impunity.
"The death at the hands of the police of Khaled Said in 2010, a young man from Alexandria, was one of the driving forces behind Egypt's uprising. It is tragic that four years after his killing, deaths in police custody in Egypt continue to occur on an alarming scale."
Maha Yahya, from the Middle East Centre at global think tank Carnegie, said: "Egyptians, it seems, are being asked once again to exchange their political freedoms for stability and security. However, the expanding clampdown on fundamental rights overlooks the fact that security and stability cannot be attained in the absence of freedom.
"Recent Egyptian court rulings have signalled the expansion of authoritarianism in the name of protecting national security and combating terrorism. International and Egyptian rights organisations have condemned the long-term imprisonment of well-known political activists and journalists and the doling out of death penalties en masse. They argue that the judicial proceedings leading up to the sentences were politicised and flawed and that the crackdown is a gross violation of basic freedoms, including the rights to freedom of expression, assembly, and due process.
"These sentences are supplemented with a draconian anti-protest law, emerging information that disappeared Egyptians have been tortured in Azouli prison, and the systematic clampdown on even socially oriented civil society initiatives, along with public defamation campaigns against activists and critics. Human rights organisations have reported that approximately 16,000–41,000 individuals have been imprisoned in the past year alone."