Le Pen, Wilders fail to put together far-right group in European parliament
Comments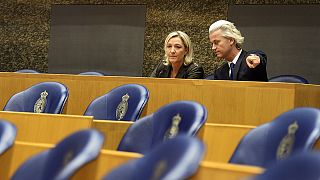 Far-right parties accross Europe have failed to set up a political group in the European Parliament, it's been claimed.
Geert Wilders, leader of the Dutch Freedom Party, said in a statement: "The Freedom Party wants to form a parliamentary group but not at any price."
Wilders added the group's intended cooperation with Polish right-wing party KNP – which has been accused of anti-Semitism and misogyny – was "a bridge too far" for him.
Contacted by euronews for a comment on the matter, a KNP spokesperson had not answered by the time of publication.
Despite him pledging to continue cooperating with his prospective allies, Wilders' decision leaves Italy's Lega Nord, Belgium's Vlaams Belang, Austria's FPÖ, and France's Front National hanging, two countries short of the required representation from seven nations.
"All for nothing"
The failure to constitute a group douses Front National leader Marine Le Pen's ambition to lead an alliance of nationalists against Brussels, one of her stated goals before the European elections. A group in the parliament would have secured at least 20 million euros in funds according to Reuters, as well as staff and speaking time, among other legislative prerogatives.
"This is huge news, as both Marine Le Pen and Geert Wilders have invested a lot in this and, in the end, fail," explained political scientist Cas Mudde, whose research focuses on European, populist, radical-right parties. "Particularly Wilders has faced pushback from within the party, which now was all for nothing."
Muddle, who is Dutch but works at the University of Georgia in the US, told euronews: "In the end, it leaves the far right even more dispersed and fragmented than in the previous European Parliament as they are now mainly non-attached, weaker in [Nigel Farage's] Europe of Freedom and Democracy group, but with some presence in the European Conservatives and Reformists group."
"It will be interesting to see whether some, notably Lega Nord and [Wilders'] PVV, will (re-)join the EFD group," Mudde added.
A political group "later"
Ludovic de Danne, EU affairs adviser to Marine Le Pen, reacted this morning on Twitter: "No matter the treasons and the media frenzy, we shall build, with our allies, a strong and coherent political group later."
Peu importe les trahisons & l'agitation médiatique... Nous construirons, avec nos alliés, un #groupe#politique#solide & cohérent plus tard

— Ludovic de Danne (@ldedanne) 24 Juin 2014
He added in an other tweet "it would have been preferable to have this group before the [July 1-3] EP constitutive session but nothing prevent us to create it later".
Contacted by euronews to provide details on the aforementionned "treasons" and the future group, de Danne had not answered by the time of publication.
Last Friday, Front National's vice-president Florian Philippot, and one of its recently elected MEPs, expressed pessimism regarding the existence of the far-right group. He confessed on French TV I-télé "it is not tragic if the FN does not have a group in the EP," a declaration Mudde said was "damage control".
Florian Philippot, told French radio Europe 1 on Monday evening: "It is not a slap in the face. We would rather have had [a group] but we can still do it in the coming five years (…) We will do the maximum to weigh in. (…) We favour quality to the idea of having a group just for the sake of it."
Setting up a group after the June 24 deadline is still technically possible, according to Reuters, although it would be too late for the FN to vie for influential posts such as a vice-presidency of the parliament and committee chairs.
Compounding Le Pen's embarrassment, Reuters reports, she was outmanoeuvred by the UK Independence Party's Nigel Farage, who had refused to enter an alliance with her due to what he called the National Front's legacy of anti-Semitism. Farage formed a Eurosceptic parliamentary group last week with 48 lawmakers after poaching a National Front defector whom Le Pen had tried to unseat after she advocated giving non-EU foreigners the right to vote in local elections.
"A non-attached MEP is not a real MEP"
"A non-attached MEP is not a real MEP, without means of action," de Danne told euronews by phone last April. "A political group will allow us the same weight in debates as everybody else." At the time, according to him, the FN was "very confident" in its chance to have MEPs from 7 different countries in the group.
On May 28, following its electoral success in France, party leader Marine Le Pen said she had "absolutely no worries concerning the future existence of our group."
Today, the party remains convinced, according to a statement, in the possibility of building an alliance "very soon."
Until then, Marine Le Pen and her allies will have to seat as non-attached MEPs.