Go Team USA! Americans are getting crazy about football
Comments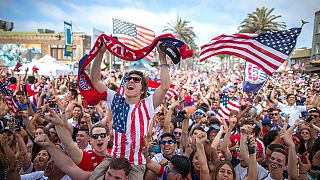 After two nail-baiter games that were a danger to heart patients, Americans have become football crazy – although they still call it "soccer". And that tells you a lot about the planet's most favorite sport's difficulties in becoming relevant in the US.
Apparently those times are over. The World Cup 2014 in Brazil has created an astonishing enthusiasm in what has long been an emerging football nation.
Gone are the days when European top stars from Franz Beckenbauer to David Beckham played for Cosmos New York and Los Angeles Galaxy, but excited only sports journalists.
Today, the nation is glued to the TV screens to watch Team USA on its march through the "group of death" alongside Ghana, Portugal and Germany.
If TV ratings are any indication, football is at the height of its popularity in the US. Sunday's game against Portugal was watched by more than 24 million people on the ESPN sports channel, making it the sport's most watched game in American TV history.
It surpassed the previous record of 18 million viewers set in 1999 by ABC's coverage of the Women's World Cup final between the US and China.
But people don't just follow the World Cup in their living-rooms. Local bars and restaurants from New York to Kansas City, from Chicago to Washington are jam-packed with fans who want to cheer their boys to victory.
Several hundred people watched the thriller against Ghana in the Redline Bar in Washington's Chinatown, one of the biggest sport bars in the District of Columbia that showed the game on 50 screens.
"I have never seen that before", says Fabrice Reymond, the bar's general manager. And his colleague Ben Fisk who runs the Laughing Man Tavern in downtown Washington admits that he came close to running out of beer during Team USA's opener against Ghana.
Same problem with Team USA football gear. Although it comes at a whopping $90 (65 Euros), the very popular red, white, blue away jersey which the Americans wore against Ghana is sold out in Washington's sport stores. (I spent hours trying to get one – in vain.)
Even the world of politics is paying attention to football. One US senator wants FIFA to take away the controversial 2022 World Cup from Qatar and give it to the United States, citing human rights abuses against laborers in that country.
In short, the sports-loving American public has fully embraced the US national team, this odd mix of young and old, of boys from the American heartland and from northern Europe. (Five players are of German origin, one is from Iceland, one from Norway.)
US German head coach Jürgen Klinsmann has created a powerful unit that has proven to be able to cause a lot of misery for those who underestimate this greenhorn band of brothers.
In their first game, the Americans stunned the huge community of experts by beating African powerhouse Ghana 2-1. In their second game, they tied Ronaldo-led Portugal 2-2 only after conceding the Portuguese equalizer just seconds before the end of overtime.
And now Germany. If both teams draw on Thursday, both will have five points, and neither Ghana nor Portugal can have any more than four points. This would mean that both the US and Germany would advance into the knockout round of the tournament.
If the US wins (which polling aggregation website FiveThirtyEight only gives a 14% chance of happening), they will advance, and Germany will very likely also still advance, barring something very strange happening in the game between Ghana and Portugal leading to a blowout for one team or the other.
If Germany wins then they advance, but things get rather complicated for the Team USA and their chances. This makes a win not particularly important for Germany.
"They should be perfectly happy to take the draw, and a draw is basically the best reasonably expectable outcome for the US.
So, should we expect an innocent kick among friends? Absolutely not, says Klinsmann who won the World Cup for Germany as a player in 1990 and coached Germany when it ended up third in 2006.
"The message is very simple, we want to beat Germany," he said. "We want to be first in our group. We're not thinking about a tie." ​