The dangers of extremism for Iraq and the wider world
Comments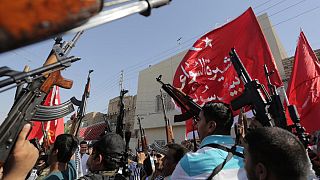 The conflict in Iraq is increasingly threatening to export trained terrorists to other countries in the region, and to the West.
Iraqi civilians continue to leave the combat zones.
However, in areas now controlled by the militant Sunni Islamic State of Iraq and the Levant, (ISIL), during lulls in its advance, its soldiers are handing out copies of the Koran to the remaining local people.
ISIL's advance since taking the second-largest Iraqi city, Mosul, in the northwest on June 10, has met little effective resistance.
The Iraqi army loses more each day, and ISIL gains.
Falluja, some 70 kilometres west of Baghdad, was their first major prize, in January.
Most recently, key points along the border with Syria fell to them. Their advance has been concentrated along the corridor between there and the Iraqi capital.
Baghdad's forces are reported to have withdrawn from the whole western border.
ISIL troops are seen on video humiliating captured Iraqi officers; the group has kept up an internet campaign as well, disseminating text, images and other propaganda, on the one hand denigrating the Shiites, on the other hand threatening the broader international community.
ISIL's pictures purport to show mass executions but not all its material can be independently confirmed as authentic.
ISIL is actively recruiting abroad: there are fears in Britain that far more young people may have been radicalised by the extremists than London estimates, and that hundreds of potentially dangerous individuals may have gone to the theatre of conflict and already returned.
In a video released online, a young British Muslim urges others to join the fight: "We have participated in battles in Sham, (Syria), and we will go to Iraq in a few days and we will fight there, Allah permitting, and come back, and we will even go to Jordan and Lebanon, with no problems."
British officials have stepped up the monitoring of returnees who are suspected of having received terrorist training.
Meanwhile, Washington is waging a diplomatic offensive, pledging to send military advisors to Iraq, and warning that fighting could spread to "allies like Jordan."
Its officials say the Jordanian army has deployed along the 180-kilometre border with Iraq. Close Western ally Jordan has a well-equipped and well-trained military.
Who better to describe the way Iraqi society has evolved under Prime Minister Nouri al Maliki than one who served with him?
Tareq al-Hashimi was vice president for five years from 2005-2010, but fled to Kurdistan, then Turkey in 2011 after being accused and tried in absentia for murder.
"Nouri al-Malikis policy, targetting the moderate Arab Sunnis, left a vacuum which was filled by the extremists. At the same time our young men, the moderates, they also gradually are becoming extremist because they cannot tolerate the inhuman conditions in their lives.
They've been discriminated against, humiliated because they are Sunnis, they are jobless, and at the end of the day extremists came to them saying 'Look, this is the result of participating in a peaceful political process. Try to change your mentality, change your behaviour, try to be powerful, try to adopt violence, and you will get a better future.'
This is the message of the extremists to my moderate young men.
Here you see, (he shows photos), a soldier from the Iraqi army putting his foot on the head of a young Sunni man; where is the dignity of the Arab Sunni in this picture?
This is another picture where the body of a young Sunni man is dragged by a humvee. Where is the dignity of the Arab Sunni here?" he asks.
euronews –
"The balance which was established by the US between 2010-2013 between Shi'ites and Kurds which left Sunnis apart, is it over after the attacks of ISIL?"
Tareq al-Hashemi –
"The international community should not blame us, they should blame themselves, they should blame Maliki. When they rendered him the support in 2010 we were the winners…At the end of the day we discovered that the US collaborated with Iran to support Maliki. And this is what happened. The time has come for the international community to step in and help the Iraqis to get together and rectify the historical mistakes in order to establish a civil inclusive state which puts all Iraqis, irrespective of their roots, on an equal footing, with equal responsibilities, and rights."