General Motors CEO grilled in Congress again over safety scandal
Comments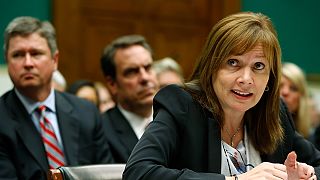 General Motors CEO Mary Barra was pressed on Capitol Hill for a second time on Wednesday to explain what steps it is taking to resolve a safety crisis that forced the carmaker to recall 20 million vehicles and also what it is doing to compensate for deaths and injuries related to faulty ignition switches.
Barra, who was already grilled by the Energy and Commerce Committee of the House of Representatives in April, was back in the hot seat as members reprimanded the No. 1 US automaker for a "culture of secrecy".
Members of both parties also criticized a company investigation that found top executives did not know for years about a deadly ignition-switch defect. In the eyes of Washington lawmakers, that does not absolve them of responsibility.
Barra testified alongside Anton Valukas, a former US prosecutor whom the company hired to compile a voluminous report on its handling of the safety flaw.
But those findings did not satisfy lawmakers. "The report paints a troubling picture of GM's culture and commitment to safety that allowed this tragedy to take place", Colorado congresswoman Diana DeGette said.
"It does not fully explain how the ignition switch was approved without meeting specifications and then redesigned in 2006", she added.
Members of the panel repeatedly asked about engineers and executives at GM who failed to fix the safety problem and waited for nearly 11 years to recall 2.6 million Chevrolet Cobalt and other small cars.
The defective switch has been linked to accidents resulting in 13 deaths although the auto maker has said the fatalities could be much higher. The design problems caused GM cars to stall, which disables air bags and causes power brakes and power steering systems to malfunction.
Wednesday's hearing comes two days after GM added an additional 3.2 million cars to the massive recall it instituted earlier this year to correct the ignition switch problem. The list of affected model years ranges from 2000 to 2011.
Barra told the committee that a GM compensation fund will cover all victims who suffered a serious physical injury, as well as families of victims who died in car accidents related to the defective switch.
She also said the compensation fund would not be capped, but she did not have an estimate of how much victims would receive. She also said claims from GM owners for a loss of value in their vehicles as a result of the 2.6 million recalls would not be part of the compensation fund.
"I want this terrible experience permanently etched in our collective memories," Barra said in prepared remarks to the congressional committee. "This isn't just another business challenge. This is a tragic problem that never should have happened. And it must never happen again," she said.
Barra reiterated the steps GM has taken based on the report by Valukas. Barra again called the report "brutally tough and deeply troubling." Among those steps were the firing of 15 GM employees and a restructuring of GM's safety and quality control.
In the statement, Barra said that she would not rest until these problems are resolved. "As I told our employees, I am not afraid of the truth," she said.
Committee members were skeptical, however. Congressman Tim Murphy, who is chairman of the House Energy and Commerce Committee, noted that the internal GM investigation concluded there was no coverup or conspiracy.
"But that report should be subtitled 'don't assume malfeasance when incompetence will do,'" he said.