Italy, Latvia and UK among Europe's worst for serious drug use, says report
Comments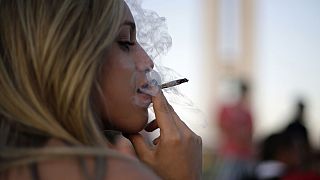 Italy, Latvia and the United Kingdom are among Europe's worst for long-term drug use, according to a new study.
One-in-ten adults in Italy are long-term drug injectors or regularly use opioids, cocaine or amphetamines, data from the European Drug Report 2014.
The figure for the UK is 9.4% and 9.1% in Latvia (see maps below).
Other revelations include:
* heroin deaths are declining but evidence of people switching to other drugs.
* increasing availability of crystal meth and emergence of higher-quality ecstasy.
* high cocaine and ecstasy prevalence rates in UK and Netherlands.
* wastewater analysis suggests London is most popular for cocaine, while crystal meth is more prevalent in eastern Europe.
Heroin deaths fall
The report, based on information submitted to the European Monitoring Centre for Drugs and Drug Addiction (EMCDDA), says deaths from heroin are declining.
But other drugs, including synthetic opioids – man-made from chemicals in a laboratory – and stimulants, are replacing heroin.
The report says 'exceptionally high rates of drug overdose deaths' reported in Estonia are linked to fentanyls, a highly-potent synthetic opioid.
EMCDDA says there were 170 drug-induced deaths in 2012, up from 101 two years earlier.
The report says there is increasing availability of crystal meth in Europe and expresses concern about evidence it is being smoked in Turkey and Greece.
Data collected in the study reveals Estonia has the highest prevalence of adult amphetamine users, at 1.1%.
Another trend is the improving quality of ecstasy in Europe, but it is unclear at this stage what impact this has had on usage levels.
Latest data reveals the drug is most prevalent in the Netherlands and the UK, with 1.4% and 1.3% of adults taking it.
According to the Global Drug Survey , two-thirds of regular clubbers in the UK use ecstasy.
How prevalent are drugs in your country?
London: cocaine capital of Europe?
The UK also tops the table for cocaine. Data provided by EMCDDA shows it is prevalent among 2% of adults, above Ireland, 1.5%, and the Netherlands, 1.2%.
The prevalence of cocaine in the UK is backed-up by another facet of the study: analysis of wasterwater.
The project, which saw sewage studied in dozens of European cities, concluded London had the highest estimated concentrations for cocaine.
Antwerp, Zurich and Barcelona were also among the worst.
The analysis also suggested there was a popularity for crystal meth in eastern Europe. Prague, Bratislava and Dresden had the highest concentrations, of the cities studied.
Drug concentrations in wastewater of European cities