Racism in Europe at its worst since the 1980s - claim
Comments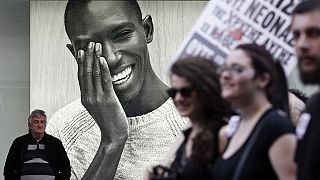 Racism in Europe is the worst it has been for more than a generation, it's been claimed.
The European Network Against Racism (ENAR) said there was an 'urgency' to act amid a worsening climate across the continent.
Its executive director, Michael Privot, blamed a 'surge' of racism on the failure of progressive parties to counter the far-right's message.
"We have to step in, we can't let things go on like this," he said. "We have been scared by the attitudes we see of the progressive parties. They say: 'The far right is rising, what can we do?'. It's too late."
The ENAR said Roma people are being targeted in the Czech Republic, Hungary and Slovakia, while 143 racist attacks were recorded against refugees and migrants in Greece.
Last year the UK's Institute of Race Relations said Europe's Roma faced a 'growing tide of hostility' and had become the number one scapegoat in the economic crisis.
Meanwhile the European Commission against Racism and Intolerance (ECRI) has raised 'grave concern' over allegations of intimidation and discrimination against Ukrainian speakers and Tatars in the Crimean region of Ukraine, now under the de facto control of the Russian Federation.
Privot said racism was the worst it had been in Europe for around 30 years.
He added: "It's getting worse. If things don't change after the European elections we really believe things will get even worse.
"Without change in economic livelihoods and less inequality, things won't get any better.
"If not we think we will face more violence and increased anti-Semitic and anti-Islamic behaviour.
"But we see from all political groups people are really afraid of the far-right and we hope these fears will produce good results."
Privot's comments come ahead of European elections this month (May), where the far-right is expected to do well.
The Guardian reports the anti-immigrant Danish People's party is ahead in European polls on 27%; Austria's Freedom party (FPO), against "Islamisation", is on track for a fifth of the vote; while Geert Wilders' anti-EU, anti-Islam Freedom party (PVV) was leading in the Netherlands until recently by encouraging opposition to Moroccan immigrants.
The situation has prompted the ENAR to ask MEPs or prospective MEPs to sign up to its anti-racism charter.
So far 31 have signed up to ENAR's seven demands, which include measuring equality, fighting racist violence and including migrants in decision-making.
Privot insists he is not despondent over the number of those who have signed up.
"We're happy because there is people from all political parties. There's people on the left but there is also people from the conservatives who have signed up.
"The more the merrier but I prefer to go for a small number that want to do something about it (racism). I don't want it to be lip service to equality, just to get votes."