Afghanistan: Hundreds missing-feared-dead after mudslide
Comments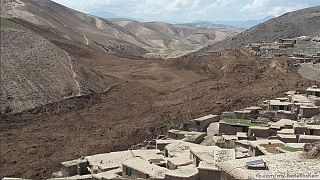 Hundreds of people are missing-feared-dead after a mudslide in north-east Afghanistan, according to local officials.
Colonel Abdul Qadeer Sayad, a deputy police chief of Badakhshan province, told Reuters: "At least 400 to 500 people are still under a huge landslide, and they are all believed to be dead. This number may increase."
Reuters, quoting Badakhshan governor's spokesman, said 2,000 people had been buried in the disaster.
Mohammad Baidaar, vice governor of Badakhshan province, said up to 400 homes had been destroyed in the district of Argo after landslides triggered by torrential rain.
US president Barack Obama, speaking at a press conference with Angela Merkel in Washington, said: "Our thoughts are with the people of Afghanistan who are facing a terrible tragedy.
"Many people are missing. We stand ready to help our Afghan partners to face this disaster."
The province, home to more than 900,000 people, shares a border with China, Pakistan and Tajikistan.
Photo credit: fb.com/my.badakhshan