UK: Cornish identity to be recognised for the first time
Comments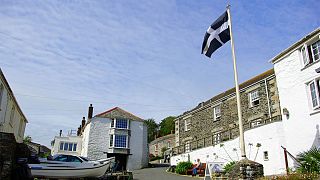 Cornwall has received a major boost after the British government said it would begin recognising the unique identity of the isolated English county.
It will afford Cornish people the same rights as the UK's other Celtic people, such as the Scots, the Welsh and the Irish.
It means the government – and other public bodies – will have to start taking into account the views of Cornwall when making key decisions.
Campaigners have long-argued that Cornwall, situated in the far south-west of England, has a separate cultural identity separate from the rest of the country.
Nationalists have also called for a degree of devolution or autonomy, along the lines of Wales and Scotland.
The UK government said it was recognising for the first time the distinct culture and history of the Cornish under European rules for the protection of national minorities.
British Communities Minister Stephen Williams said: "This is a great day for the people of Cornwall who have long campaigned for the distinctiveness and identity of the Cornish people to be recognised officially.
"The Cornish and Welsh are the oldest peoples on this island, and as a proud Welshman I look forward to seeing Saint Piran's flag flying with extra Celtic pride on March 5 next year."
Dick Cole, leader of Mebyon Kernow, which wants Cornish devolution, responded: "Fantastic news. I am absolutely delighted that the government will today formally recognise the Cornish people as a national minority.
"It is great that all the Celtic peoples of these islands – the Cornish, Irish, Scottish and Welsh – are now afforded equal protection under the Framework Convention for the Protection of National Minorities."