Locals have knives out for man they say 'stole' their village name
Comments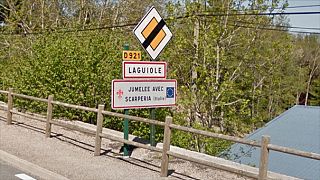 A businessman has hit back at claims he has stolen the name of a village and 'slurred' its name and reputation.
Laguiole near Toulouse – famous for making distinctive knives associated with the area since the 19th century – is up-in-arms over the acitons of Paris businessman Gilbert Syajner.
Syajner, in 1993, registered Laguiole as a trademark for his company, which sells similar knives, and other products, imported from the Far East.
Now, after a ruling by France's Court of Appeal this month (April), the village has been banned from using its name on any other products except its knives.
The village's mayor, Vincent Alayard, says if a local business wants to product forks or cheeseboards, and put the community's name on them, they will be accused of counterfeiting products made in Asia.
But Syajner hit back in an interview with AFP. He complained of being attacked on the internet over the issue. He claimed his knives were made in Puy-de-Dome or China and represent just 20% of turnover.
He added he had 'nothing to hide'. He said his income was 'not enormous' and that it do not allow him to have a house in the country or by the sea.
Alayard, said the village was a victim of a 'supernatural catastrophe' and called on French president Francois Hollande to intervene.
In 2012 villagers, in a symbolic move, took down the name sign at the entrance to their community in protest.


Main picture copyright: Google Maps