NASA rejects rumours strange light on Mars is UFO
Comments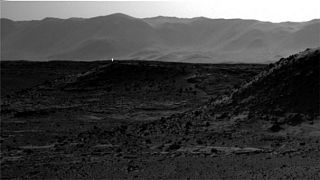 Scientists have quashed internet suggestions a strange light picked up on Mars is a UFO.
NASA's rover, Curiosity, captured images of a bright column of light on Mars' horizon on April 2 and 3.
UFO Sightings Daily claimed it could indicate "there is intelligent life below the ground and uses light as we do".
The post added: "Sure NASA could go and investigate it, but hey, they are not on Mars to discovery life, but there to stall its discovery."
But NASA's Justin Maki dismissed the suggestions, telling space.com the light could be either a leak into one of the rover's cameras or a glint from a rock.
Maki, of NASA's Jet Propulsion Laboratory, leader of the team that built and operates the navigation camera added in a statement: "In the thousands of images we've received from Curiosity, we see ones with bright spots nearly every week. These can be caused by cosmic-ray hits or sunlight glinting from rock surfaces, as the most likely explanations."
Image credit: NASA/JPL-Caltech