'Game of Thrones' returns for 4th season
Comments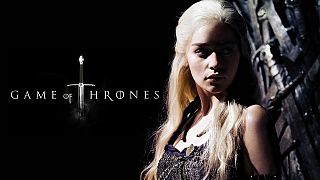 Mystical ice creatures, fire-breathing dragons, and the people caught in between return to the small screen come April 6, when HBO's "Game of Thrones" unsheathes a fourth season that could see it crowned as the cable network's most watched series in history.
The medieval fantasy drama's fan base has grown substantially over its first three seasons, with sizable followings among both men and women thanks to its wrenching interpersonal relationships, complex plotting, and, being HBO, plenty of sex and violence.
The show is based on the "A Song of Ice and Fire" series of novels by George R.R. Martin, of which five of an expected seven have been published. It takes place in the fictional world of Westeros, following more than two dozen regular characters amid a war for dominion between noble houses.
In addition to the squabbling between regions and families, the characters also face external threats, including dragons and the "White Walkers," nearly unkillable creatures from the far northern part of the world who can animate the dead.
The third season of the show climaxed with what is now known as the "Red Wedding," where three primary characters were treacherously murdered along with scores of others at a wedding feast. For some shows, that might be difficult to top, but cast members said this year's season will be even more dynamic, so as to not lose momentum with a growing audience.
"There just seems to be a whole new army of people watching the show for the first time. The more fans you have, the more pressure you feel to keep up the quality of the product," actor John Bradley, said in a recent interview along with other cast members. He plays Samwell Tarly, a member of the Night's Watch, the ancient order that protects Westeros from threats in the frozen north.
Last year, the show averaged 14.4 million viewers across all platforms, only about 50,000 viewers shy of HBO's most-watched show ever, the sixth season of the mob family drama "The Sopranos." Among cable dramas, it is second in viewership, trailing only basic cable's zombie apocalypse saga "The Walking Dead" on AMC Newtworks Inc, which is averaging 17.6 million viewers in its fourth season.
Women make up 42 percent of the audience, and while that's not quite even, it still makes the female viewing contingent larger than AMC's methampetamine thriller "Breaking Bad," whose final season audience was 37 percent women, according to Nielsen.
As "Game of Thrones" has grown and its reach has expanded – it airs in more than 200 countries and territories worldwide – so too has the business of the show.
HBO's subscription revenue grew by 6 percent, or $221 million, in 2013, according to earnings reports from its parent, Time Warner Inc. The company noted in its August results that viewership for "Thrones" rose 20 percent. A fifth season has not been officially renewed, according to an HBO spokeswoman, but the show's success makes it hard to imagine it won't keep going.
The franchise has spawned 350 kinds of merchandise available on HBO's website, and more recently the release of a hip-hop mixtape headed by Common and other rap artists. Common notably performed his entry to the soundtrack at a sneak preview of the show's first episode in Brooklyn, New York on March 20.
The cast members see it as well, particularly on social media. Maisie Williams, 16, who plays fan favorite Arya Stark, said she picked up more than 40,000 followers on Twitter during the off-season. She has a big fan base on other social media sites like Vine and Instagram – in part due to a goofy video she posted after the Red Wedding where she joked about the death of her "family."
"That really blew up – I went from having about 1,000 followers on Vine to having about 100,000," she said.
OLDANDNEWFACES
The fourth season finds numerous major characters in King's Landing, the capital city of Westeros, where they are gathering for the impending wedding of Joffrey, the cruel, young king who stands shoulder to shoulder with the more notable villains in television history.
There are new faces, too, most notably Prince Oberyn Martell, nicknamed the "Red Viper." The prince comes to the capital to attend Joffrey's wedding but also has ulterior motives, like so many on the show.
The character, whose swagger made him a favorite among readers, is played with steely resolve by Pedro Pascal, a Chile-born actor whose family left that country as political refugees when he was 4, and who was raised in the United States.
For Pascal, his character's accent is a callback to his parentage: The script "didn't specify what he was supposed to sound like. … I think without thinking about it too much, it came naturally for him to sound like my dad."
Pascal is one of 29 regular characters on the show, most of whom fall somewhere between good and evil on the moral spectrum. Some, including the conflicted, incestuous knight Jaime Lannister, played by Nicolaj-Coster Waldau, have seen their morals shift over time, as his character has become one of the more sympathetic over the course of the show.
"You realize no one is good and no one is bad," said actress Williams. "We're starting to see the other side to these evil characters.
"And then there's Joffrey."
REUTERS