GM's Barra to families of victims tied to deadly cars: 'I am deeply sorry'
Comments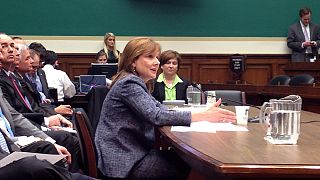 Under intense grilling from members of the US Congress, General Motors chief executive officer Mary Barra testified on Tuesday about the carmaker's recall of millions of vehicles and at least 13 deaths blamed on faulty ignition switches.
Seated only several rows in front of families of the victims, Barra said she was "deeply sorry" and said GM would work to establish a compensation fund. This was the first time that any GM official has hinted at such a possibility, as many consumer groups and Democrats in Congress are urging.
The families had brought pictures of their loved ones to the hearing room. Four of the drivers who died in car crashes were teenagers.
Barra said she found employee statements "disturbing" that cost considerations may have discouraged the prompt replacement of faulty ignition switches now linked to the fatalities.
The fix for a faulty ignition switch would have cost just 57 US cents (0.41 euro) members of Congress said as they demanded answers from GM's new CEO on why the automaker took ten years to recall cars with the defect.
Barra's testimony was being delivered under oath before a House of Representatives Energy and Commerce subcommittee. "We are determined to find the facts and identify the problems so a tragedy like this never happens again", said Tim Murphy, a Pennsylvania Republican, in his opening statement.
Since February, GM has recalled 2.6 million vehicles, mostly Chevy Cobalts and Saturn Ions, due to concerns about ignition switches that unexpectedly turn off engines during operation and leave airbags, power steering and power brakes inoperable.
GM has linked the defect to 31 frontal crashes and 13 fatalities. GM first noticed a problem with the switches in 2001, but did not order any recalls until February 2014.
As soon as the Chevy Cobalt rolled off the production line, customers began filing complaints about the ignition switch. These customers told GM that just by bumping the key with their knee while driving, the Cobalt would shut off.
In 2004 and 2005, GM engineers twice considered the problem and even developed potential solutions to fix it. But GM decided the "tooling cost and piece price are too high" and that "none of the solutions represents an acceptable business case".
The solution GM ultimately settled for was to tell their dealers to ask Cobalt drivers to remove heavy objects from their key chains.
On one of the most sensitive issues in the congressional investigation of GM, lawmakers asked Barra why the company would have included ignition switches in its cars even though they did not fully meet the company's specifications.
"There is a difference between a part not meeting specifications and it being defective," Barra responded. A statement that prompted Congressman Joe Barton from Texas to fire back: "What you just answered is gobbledygook."
When pressed on whether the switch was acceptable from a safety and functionality perspective, Barra said: "As we clearly know today, it is not."
"If there's a safety issue, we're going to make the right change and accept that," said Barra, who became CEO in January and almost immediately found herself thrust into one of the biggest product safety crises Detroit has ever seen.
Barra admitted that she didn't know why it took years for the safety defect to be announced. And she deflected many questions about what went wrong, saying an internal investigation is under way.