Turkish local elections: 'What is at stake are fundamental rights and freedoms'
Comments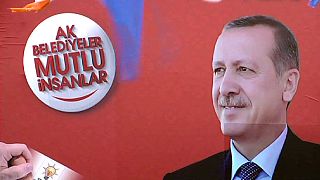 Turkish voters are preparing for Sunday's local elections which are seen as a test of Prime Minister Erdogan and his leadership.
They come on the back of corruption scandals that have seen four ministers removed from office and leaked recordings of phone conversations exposing alleged bribery.
Erdogan accuses his opponents of a plot against him and of manipulating the recordings.
Then there's the Twitter and YouTube issue: the Turkish government has been accused of censorship after shutting them down.
The elections are also the first since last summer's anti-government protests which left eight dead.
The mayoral elections in Ankara and Istanbul will be the ones to watch, and on Sunday the Turkish people will make their feelings clear.
Our correspondent in Turkey, Bora Bayraktar, spoke with Aslı Aydintasbas, a journalist with the newspaper Milliyet.
Bora Bayraktar, euronews: "These elections are local, yet the mood is like that of a general election, for both ruling party and opposition. Why do you think that is?"
Aslı Aydintasbas, analyst, Milliyet Newspaper: "Well, you're exactly right, this is beyond local elections. We are at an important crossroads for Turkish democracy. These elections are linked to one person: Recep Tayyip Erdogan. This voting will decide whether we believe in Turkey continuing to be represented by Erdogan — whether we endorse his governing style or not. Off course, the local candidates are also important. Especially in small places, people will decide according to the merits of the candidates and the service that they hope to get out of them. But in big cities, where the most of Turkey's population live, this vote will be a vote of confidence in Erdogan."
euronews: "The competing parties see these elections as if they're vital for their survival. What is at stake? Why are the parties using such tough language against each other?"
Aydintasbas: "I think what is at stake are fundamental rights and freedoms, and democracy. From where I stand, a country is not a democracy if Twitter is banned, if companies linked to the opposition are punished with high tax penalties, if journalists are arrested, if businessmen are threatened. For those who feel like me, this vote is about survival."
euronews: "The ban on Twitter and the protests over Gezi Park have made international headlines. If this sort of thing is repeated after the elections, how will it effect Turkey?"
Aydintasbas: "We don't discuss it enough here in Turkey, but Turkey has already lost face in the eyes of international community, unfortunately. The ban on Twitter was the last straw. But Turkey's image had deteriorated long before the Twitter ban. The government was incapable of seeing the extent to which Western public opinion considered it authoritarian when it used force against people who wanted to protect a park in the heart of Istanbul, when police went after them with water cannon trucks. The government doesn't realise how serious it is to ban Twitter for those who want to invest in Turkey, for the West, for its allies, for the European Union, of which Turkey is technically still a candidate to become a member."
euronews: "Do you think corruption allegations could play a role when people go to the ballot box?"
Aydintasbas: "As long as the economy runs well, the voters don't take corruption issues into consideration when they vote in developing countries. When the economy does badly, they take the allegations seriously and punish the leaders. It also takes time for this image to take hold and for word to spread. I don't think that everybody in Turkey knows the allegations. But they will continue to be on the table as we move toward the presidential elections. Turkey will continue to discuss this."