Rivals for European Commission presidential role clash over Ukraine
Comments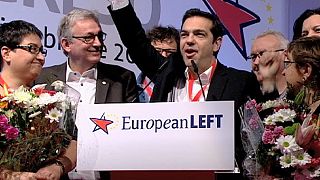 Greek opposition leader Alexis Tsipras has attacked one of his key rivals in the race to become the next president of the European Commission.
Left-leaning Tsipras hit out at German Martin Schulz over comments made about Russia's annexation of Crimea.
Schulz, currently president of the European Parliament, said: "European borders recognised under international law have already been redrawn in response to outside pressure. For the first time in Europe since the end of the Cold War, a State has used force to annex part of another State. Russia has broken international law. That is unacceptable. We must treat the Crimea crisis as a wake-up call, one which prompts us to rethink our European Neighbourhood Policy and our relations with Russia."
But Tsipras, leader of The Coalition of the Radical Left in Greece, pounced on Schulz's comments that a state has been forced to annex part of another for the first time since the end of the Cold War.
Tsipras, in a statement to euronews, said: "I have read with a certain feeling of surprise and disbelief the statement made by Martin Schultz regarding developments in Crimea on "redrawn borders" in Europe.
I am wondering: Has Mr. Schultz lost his memory or is it the case that his alliance with Ms. Merkel is driving him to such inaccuracies?
Has he forgotten Yugoslavia? Or is he unaware of the fact that, for the first time after the Second World War, borders in Europe were violated with the invasion of Cyprus by the Attila troops?
What is actually happening for the first time today is that, centering on Ukraine, the European Union supports a government with far-right and neo-Nazi elements, which violates its own country's constitution. In Ukraine, the European Union has denied its own precedent, when it imposed sanctions on Austria in 2000, because Jörg Haider's far-right participated in the government. And it is walking a Cold-War tightrope with Russia.
Statements of this kind send us back to the darkness of the Cold War.
They are proof that Mr. Schultz has abandoned the postwar socialdemocratic tradition—in particular the inspired Ostpolitik. In this way, he stays closer to Ms. Merkel rather than to Willy Brandt.