Anti-corruption chief appointed to head Cyprus central bank
Comments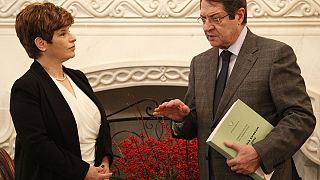 Cyprus's auditor general was appointed on Tuesday to head the island's central bank,
replacing an academic who quit amid acrimony with the government over a chaotic international bailout last year.
Chrystalla Georghadji, whose hard-hitting annual reports on lapses in public administration have been the bane of several governments, takes up her post on April 11, after outgoing governor Panicos Demetriades works out his notice.
As governor Georghadji, 58, will represent Cyprus on the Governing Council of the European Central Bank. A Greek Cypriot refugee, she studied economics in Greece, Britain and the United States and has been auditor-general since 1998.
An official statement said ECB chairman Mario Draghi was informed of Georghadji's appointment on Tuesday by Cypriot President Nicos Anastasiades.
"She has a well-established track record for being independent and autonomous, which should dispel any notion this is a political appointment," one source told Reuters on Tuesday.
Panicos Demetriades, an appointee of Cyprus's former communist government, quit on Monday, two years into a five-year term, citing "mainly … personal and family reasons".
Cyprus's government on Tuesday sought to distance itself from any speculation that Demetriades, whose independence is protected by EU statutes, was pushed. "There was no quid pro quo," Anastasiades told journalists.
"He just (resigned) for personal and family reasons, and because of the prevailing climate," he said, without elaborating.
But newspapers and political parties pointed to a record of animosity with the centre-right administration, in power for a year. Anastasiades had on several occasions accused Demetriades of mishandling the bailout, in which a bank closed and big savers were obliged to contribute some of their bank deposits.
"He endured unprecedented polemic, blackmail and threats from the government aimed at forcing him to resign," said a spokesman for AKEL, the party which appointed Demetriades when it was in power in May 2012.
Demetriades has frequently said he assumed a poorly-regulated banking system which took excessive risks.
A source who saw Demetriades's resignation letter, handed to the Cypriot finance minister in Brussels, said the banker had also cited difficulty in working with the board of directors – most of whom were appointed by the present government.
The central bank's board of directors had accused Demetriades of keeping them in the dark on major issues including a clause in a consultant's contract allowing it to
claim a percentage of money required for the bailout of Cypriot banks.
That contract, and allegations it was backdated, were under investigation by the attorney-general. Shortly after Demetriades's resignation became known on Monday, law authorities said they had already decided not to pursue the case.
Demetriades has never publicly addressed the essence of the allegations, contained in a November report by the board's audit committee. He was not immediately available to comment further on his resignation on Tuesday.
Nicos Anastasiades, the Cypriot president, had also frequently accused him of shortcomings, both before and after lenders agreed to give Cyprus 10 billion euros ($14 billion) in aid which yanked it from the verge of bankruptcy in March 2013.
In a letter to Draghi last year Anastasiades complained about Demetriades, while in a confidential memo sent to the European Commission last October, seen by Reuters, he had accused Demetriades of being "confrontational", and following the political agenda of the previous government.
Cyprus's bailout was the first and so far the only euro zone rescue to be partly financed by bank depositors.
REUTERS