Should the US build three giant barriers to reduce the impact of tornados?
Comments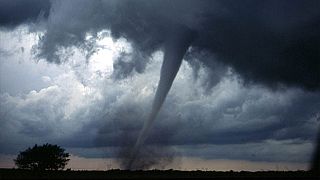 The US could reduce the devastating impact of tornados if it built three giant barriers, it's been claimed.
Professor Rongjia Tao says a trio of 300-metre high barriers would diminish the twisters' impact 'forever'.
But critics have dismissed the idea as unworkable.
Tao, unveiling his idea at the American Physical Society meeting in Denver, called for the barriers to be installed in Tornado Alley, a strip in the centre of the country worse affected by the storms.
He claims the walls would cost $16bn (€11.5bn), but save billions in damage.
Tao, from Temple University, Philadelphia, argues because there are no east-west mountains in Tornado Alley, there is nothing to weaken the twisters.
But tornado researcher Harold Brooks of the National Severe Storms Laboratory told USA Today the idea was unworkable.
He said China has deadly tornadoes despite the east-west mountain ranges there.
Brooks added: "This is essentially a case of a physicist, who may be very good in his sub-discipline, talking about a subject about which he is abysmally ignorant."
Every year hundreds of tornados rip through communities in the north-south strip.
One of the worst disasters saw 695 people die when a tornado struck in March 1925.