Estonian prime minister resigns ahead of 2015 elections
Comments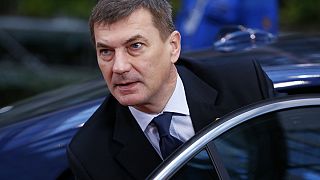 Estonian Prime Minister Andrus Ansip has resigned in a bid to give his centre-right reform party the best chance of winning next year's parliamentary elections.
Ansip, 57, who has been in power since 2005 and is Estonia's longest serving prime minister, guided the country to become the first former Soviet Union nation to join the eurozone.
Former Prime Minister Siim Kallas, who served from 2002-03, has been rumoured as a potential successor, according to Bloomberg. The news agency reports that Ansip's resignation coincides with a general desire for change after the country's economic growth froze last year, for the first time in almost four years.
Ansip announced his resignation on state-owned television on February 23, saying: "So today is the day I can assure you: on Shrove Tuesday, I will hand my resignation application to the President of the Republic."
The president has 14 days to formally nominate a new candidate for prime minister who will then nominate a cabinet.
Voter fatigue
Under Ansip, Estonia's longest-serving prime minister who has held office since 2005, the small Baltic country has been praised by analysts as a model of northern European austerity pitted against crisis-hit southern Europe.
Ansip's government stayed in place in 2011 elections even after the country's economic output had fallen by 14 percent in 2009 due to the global financial crisis and the collapse of a real estate price bubble fueled by cheap and easy credit from Nordic banks.
But Ansip's centre-right coalition has been struggling in polls amid signs of voter fatigue at years of a government focused on fiscal austerity as well as several high profile party funding scandals. The centre-left opposition has been gaining popularity.
A key policy difference between the current ruling coalition and the centre-left opposition is over Estonia's flat 21 percent personal income tax, to be reduced to 20 percent in 2015.
The opposition parties would like to move towards a progressive tax policy with higher rates for higher earners, as applied by most developed countries.
with Reuters